The Blue House
The Blue House:
A vivid West Asheville haven nurtures a mother and daughter's creative spirits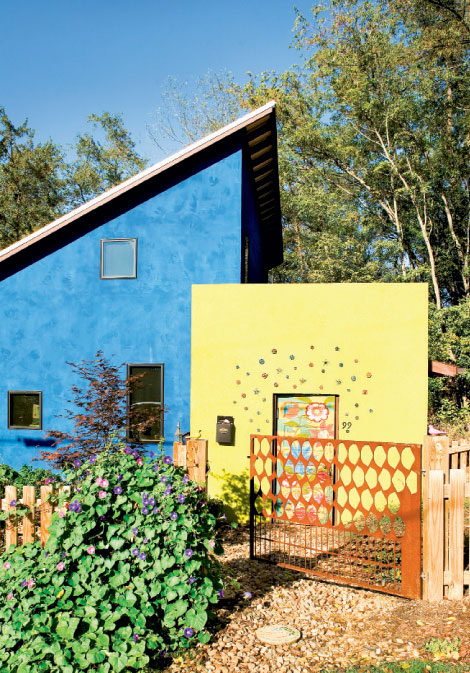 "I knew I wanted blue stucco," recalls Camille Cummings, thinking back to several years ago, when plans for her home were on the drawing board. Indeed, a previous visit to the late artist Frida Kahlo's blue house, now a museum in Mexico City, made an impression. But that similarity between dwellings isn't all the two women have in common.
Cummings is a painter (as well as a teacher at an after-school art program). She has also faced the pain of divorce. But unlike Kahlo, whose self-portraits throughout her tumultuous relationship with Mexican muralist Diego Rivera reflect despair and isolation, Cummings' separation sparked a vibrant surge of creative energy. She set aside her muted, neutral-tone ceramic sculptures in favor of brightly colored, youthful paintings. And she put a great deal of energy and creative thought into the house she built for herself and seven-year-old daughter, Olive. It, too, is a colorful work of art.
On a wooded corner in West Asheville, in a footprint no more than 500 square feet, the blue and lime green home invites curiosity. Pink plastic birds perched on the fence post and flower-like faucet handles hung above a colorfully painted swinging door beckon visitors. A peek behind the entry reveals a private patio.
The interior is just as vivid. Shades of green, blue, pink, and purple punctuate the walls throughout, while punches of brilliant hues also stand out in paintings, fabrics, and furnishings. Large, south-facing windows welcome generous amounts of light into the passive-solar house. And from the claw-foot tub painted with a floral motif to the office door accented with rhinestones and rice paper to the rope swing she had installed in the kitchen, it's clear her art has leapt off the canvas. Cummings approached her home décor the way any skilled painter would their work—with a firm knowledge of color theory and a keen eye for composition and balance.
"The whole process was really fun," she says. "It was like a big 3-D art project."
Cummings approached Stephen Beili, founder of Studio Dionisi residential design firm in Asheville, after seeing the eye-catching orange and green house just down the street that he designed for his mother. His affinity for what he calls the "green and glam" aesthetic is congruous with what Cummings wanted in a home: eco-friendly features in a fun and modish space.
Charged with designing a small, box-like dwelling, Beili chose a mono-pitch roof to add volume to the upstairs bedroom Cummings and Olive share, making it feel larger. "The roofline is in the same slope as the land," he points out, "and it's all in an effort to keep the house from towering over the surrounding single-story homes."
The open floor plan for the kitchen and living room, which doubles as an art studio, creates a sense of spaciousness, as does the connection with the upstairs. The large, loft bedroom is exposed to the living area, thus integrating the spaces. "I love the floor plan," says Cummings. "I can keep an eye on Olive. I don't feel separated." A small office and den downstairs (intended as Olive's bedroom when she's older), and two bathrooms are the only rooms in the house that are separated by doors.
Cummings also wanted an indestructible, kid-friendly home. A concrete, radiant-heat floor, softened with a few throw rugs, is a durable element that offers easy cleanup. The rope swing in the kitchen is Olive's favorite seat in the house. And for little artists who stray from the canvas, Cummings stationed paints and brushes on a shelf near the entryway, encouraging Olive and her friends to draw and paint on the wall.
Light is another cheery presence in the home. Beili strategically placed windows to maintain privacy while allowing in ample sunlight, connecting the interior with the surrounding natural world. Aside from a fringe curtain in the great room featuring an image of Kahlo, most windows are bare. It does help that two sides of the home are wooded. "The placement is great," says Cummings. "The way Stephen designed it, window coverings don't feel necessary."
Greg McGuffy with Earthtone Builders was in on the collaboration as well. His team worked with Cummings to incorporate salvaged elements she'd accrued over the years, such as the sliding door leading into the office. Rough-sawn trim throughout, which is a rustic accent against the bright walls, is also a contribution from McGuffy's team.
And when Cummings added her final decorative touches, including the whimsical hot air balloon mobile that hangs near a window and the paintings that adorn the walls, the inviting, artful home came together, and mother and daughter settled in nicely.
From the bedroom above, where she's watching Harry Potter, Olive softly calls to her mother, politely requesting a snack. Like a little butterfly, she flits down the stairs on her tiptoes to collect her treat, giving mom a warm hug and kiss before retreating to her perch. Observing this loving interaction, it became apparent; Cummings created this artful and inspiring nest not just as a place to direct her creative focus, but to nurture her greatest work of art—Olive.
Collaborators
Designer
Stephen Beili, Studio Dionisi
Asheville; (828) 989-3884
www.ashevillemodern.com
Builder
Greg McGuffy, Earthtone Builders
Asheville; (828) 230-4469
www.earthtonebuilders.com