Bloom Time
Bloom Time:
A garden coach can put you on the right path to a beautiful oasis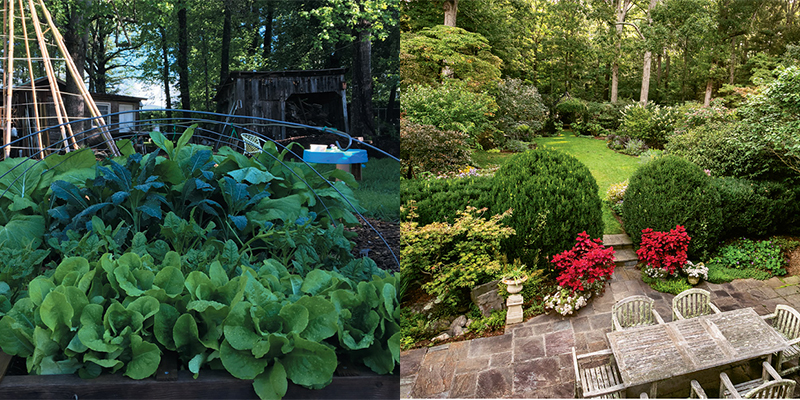 If you have a garden, you've likely thrown up your hands at some point and wished for on-site guidance. A full-service landscape designer might be beyond your needs, while site-unseen advice from nursery staff could be too general. Enter the garden coach, someone who comes to you to offer expert advice for all your woes. Meet these local mentors who can help your garden grow.
THE NATURAL GARDENER
A botanist, naturalist, writer, and speaker, Lisa K. Wagner served as the Director of Education at the South Carolina Botanical Garden for over 20 years and teaches gardening classes in and around Asheville. Her expertise includes gardening with natives, wildlife, and pollinators in mind. For a $125 donation to a local nonprofit, Wagner offers a two-hour site visit and pre- and post- discussions and summary. "'Does your garden welcome you home?' is my mantra," she says. lisakwagner.com
Pro Tip: People often overplant, cramming too many plants in too small a space. Don't be afraid to remove or transplant your overcrowded blooming beauties.
VEGGIE MAMA
Rachel Strivelli of Fletcher-based Get Your Garden Growing consults with clients in Henderson, Buncombe, and Haywood counties on producing organic vegetables and perennial edibles. A former public school teacher with a masters in soil science, Strivelli is also a parent, and enjoys teaching new gardeners and also families with children. "If you're trying to get your kid to eat more veggies, if you can get your kid into the garden planting and growing the vegetable, they're more likely to try it," she says. It's $95 for 90 minutes, and she does a site visit and creates a customized action plan. getyourgardengrowing.com
Pro Tip: Plant what you like and start small. Try three vegetables and plant more than one variety of each so that if one doesn't fair well, it's likely the others will.
SYMBIOTIC EDUCATOR
"More green time and less screen time," is a motto Amy Landers lives by. She and her husband, Colby, own Hendersonville-based Gardens that Matter, which offers planning and design consultations locally in person and worldwide via Skype. They specialize in permaculture as well as wildlife, pollinator, and organic gardening. In addition to teaching workshops in the area, they offer multiple online courses, including some geared toward beginners, and their blog is chock full of helpful pointers and videos anyone can access. Call for a quote. gardensthatmatter.com
Pro Tip: Plan your garden so that it's incorporated into the places where you live and spend time. You're going to want to work in the garden more if you do.
THE EDITOR
"I have a place in my yard called impulse hill, where I put plants that don't fit elsewhere. That way, I don't have to say no to an impulse buy," says Cinthia Milner, garden coach for B.B. Barns in Asheville. While amassing too many florals is easy to do, Milner, a horticulturalist, helps clients "edit" their garden, making adjustments as it grows. She also offers design help and plant identification and diagnostics. $85 per hour. bbbarns.com
Pro Tip: To get plants established during planting season, you need to be present and diligent about watering regularly and at root level. Also, don't be afraid to prune.
RESOURCES:
Photographs (portraits from left) courtesy of Lisa k. Wagner; Rachel Strivelli, Amy Landers, by Rhonda Hallman; (gardens from left) by Lisa K. Wagner, Amy Landers, Erin Adams