For the Birds
For the Birds:
The NC Audubon Society's volunteer-powered Christmas count gets good data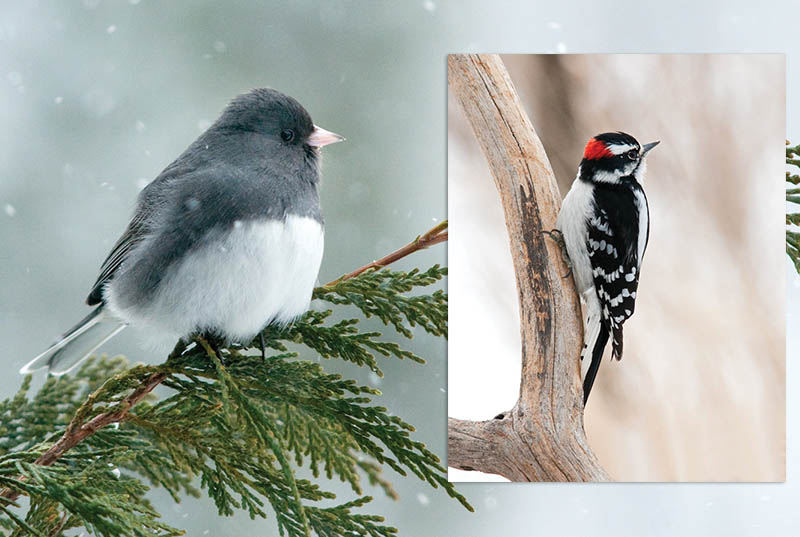 Dark-eyed junko; (inset) Downy woodpecker
Feel like doing something productive this winter? Look no further than the North Carolina Audubon Society's annual Christmas Bird Count, part of the longest-running wildlife census in the world. One of two upcoming large-scale endeavors (the other being the Great Backyard Bird Count in February, which Audubon Society assists with), this annual effort helps North Carolina rank in the top-performing states of an important international science event.
This year marks the 121st such count. It takes place in 56 "circles" of North Carolina, where participants tally all birds seen or heard on a given day within a 15-mile radius. Held mid-December through early January, each count takes place in a 24-hour window, led by a compiler responsible for organizing volunteers and submitting observations to Audubon. They count not just the number of species but the total numbers, to provide a clear idea of the prominence and health of particular populations.
"Originally it began with people hunting birds, then deciding to count them instead," says Burnsville-based Aimee Tomcho, conservation biologist for the NC Audubon Society and point person for Yancey County's December count. "It has a lot to do with people gathering and having fun and celebrating birds when people get locked down in winter. But it's also truly a strong Beta set that scientists are able to use to help analyze bird counts in the entire Western Hemisphere."
Anyone, no matter their skill level, can volunteer for the count online at nc.audubon.org. "It used to be just scientists like me" who participated, Tomcho says. "Now, with this many eyes and growing expertise with their birding skills, community science or citizen science is a powerful mechanism."