Big on Style
Big on Style:
Brandy Bowman's shop, Collected, showcases a stellar home décor anthology inside petite digs in Marion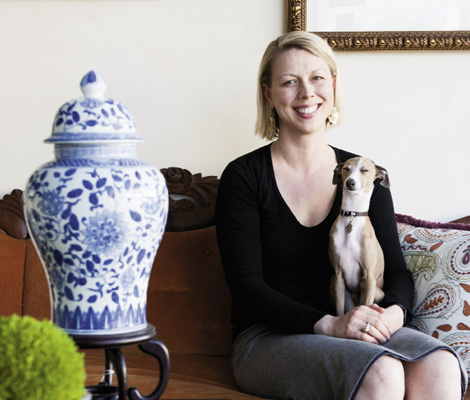 Sitting among plush chenille pillows on a Victorian couch and admiring a host of lovely objects­—Oriental vases, marble-topped end tables, and a refurbished vintage fan—it's easy to think you're in Brandy Bowman's living room. Then, you notice a price tag or two and the passers-by peeking through the window. This is Collected, the 450-square-foot boutique the Marion native opened at 146 S. Main Street in November.
This chic spot for new, vintage, and antique furnishings, accessories, and artwork is small even by boutique standards, taking up just the storefront of her husband's real estate-appraisal office. So how do you fit big style into close quarters? With some careful calculations. "It's a math equation decorating this space. I don't even have four walls," says Bowman with a laugh. Her formula clearly works. One side of the showroom is styled as an office with an elegant mirrored desk, Persian rug, and 1940s china cabinet; the other is a living room that naturally blends the styles of multiple eras. Tomorrow, it could all change: As one piece goes home with a customer, Bowman replaces it with another procured at auction, online, or elsewhere.
The shop formerly served as a reception area for the adjacent office, and was adorned only with a few chairs and black-and-white photographs by her husband, Brent. An idea to redecorate the space morphed into a plan for a showroom featuring interesting and affordable pieces. "I thought the worst case is no one buys anything and I have a bunch of cool stuff for my home," Bowman says. The first curious visitors poked their heads in to inquire about the unconventional digs. Now those folks are customers, and she's finding herself hunting for merchandise and redecorating more often. "It's always evolving. Hopefully, that's part of the appeal."