The Big Day
The Big Day:
Julia Sublett & Tom Wood Rittenhouse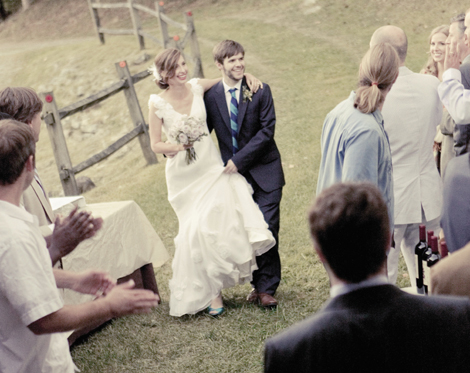 Julia and Tom found many reasons to be enthralled with each other the weekend they met at the Lake Eden Arts Festival, but it was a hug and his humor that truly impressed Julia. "Tom gave me one of the best hugs I've ever had," says the Georgia native. "I laughed the entire weekend; probably more than I've ever laughed in a weekend." For Tom, the world stopped spinning the moment he saw Julia.
When he proposed two years later, Julia knew the perfect site for the wedding, the picturesque setting at Dutch Creek Trails. She worked there as a guide for horseback riding tours while attending Appalachian State University. "We just wanted everything to be as naturally beautiful as possible," she says. They got their wish with the help of wedding planner Elizabeth Hempfling of Events by Elizabeth Ashley.
The bride wore a vintage ivory, lace gown, an heirloom that nine women in her family have worn to say "I Do," starting with her mother. She was escorted across the pasture by her father to the old-time music of High Windy, the same band that played LEAF when they met. After the ceremony, friends and family were treated to a hayride, before the reception at The Apple Barn.
Julia slipped into a second gown to dance the night away with her groom. The couple swayed to John Hartford's "Gumtree Canoe," before guests joined them on the dance floor for the Latin and reggae rhythms of Athens, Georgia-based band Grogus. The couple added whimsical touches to the event by setting up a photo booth with props and serving cupcakes in lieu of a traditional tiered wedding cake.
Guests showered the couple with dried lavender as they made their exit and set off for a honeymoon in Singapore and Thailand. Julia says, "I would do anything to have that day again. It was perfect."
Resources
Wedding Planner
Events by Elizabeth Ashley, Boone;
(828) 773-8431;
eventsbyelizabethashley.com
Venues
Dutch Creek Trails, Sugar Grove;
(828) 297-7117; dutchcreektrails.com
The Apple Barn at the Valle Crucis
Conference Center; (828) 963-4453;
highsouth.com/vallecrucis
Flowers
Millefleurs, Boone; (828) 963-4992;
ncmountainflowers.com
Catering
Gadabouts, Boone; (828) 963-2804;
gadabouts.com
Cupcakes
Stick Boy Bakery, Boone;
(828) 268-9900;
stickboybread.com
RESOURCES:
Photography by Stacey Bode Photography