Beyond The Battle
Beyond The Battle:
Whether or not they fight for the title in the WNC Battle of the Burger, these joints are worth a visit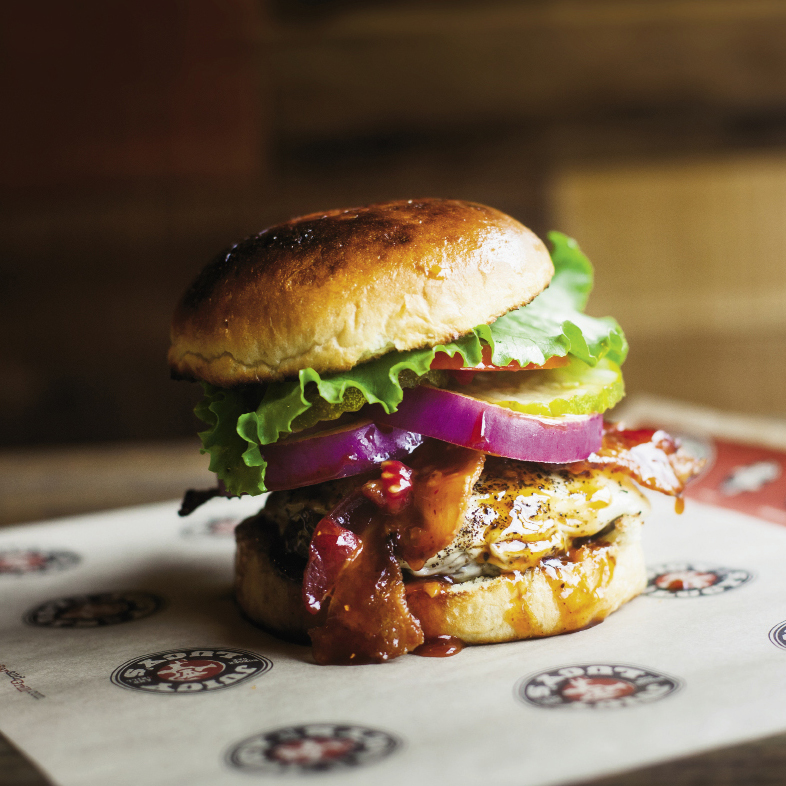 "Where's the beef?" won't be in question when Western North Carolina's second annual Battle of the Burger returns to Asheville on August 23. Last year, 13 restaurants participated in the epic showdown. While some competitors leaned heavily on the toppings, from plantains and chimichurri to quail eggs and bacon jam, the champ was Rankin Vault for its basic burger topped with bacon, white cheddar, arugula and red onion tossed in a homemade vinaigrette, plus spicy Duke's mayonnaise.
Scattered throughout the region are other great burger joints waiting for recognition. While these restaurants didn't participate in the burger battle last year, they're worthy of the match.
Jimmy Mac's
When elk and buffalo burgers are a staple among customers, you know a place is the real deal. The antique décor, accompanied by family photos, gives this rustic family-run eatery the feel of grandma's house, but its menu is hardly old-fashioned. Jimmy Mac's boasts 23 signature burgers such as the Minnesota Fats, with mushroom gravy, sour cream, and sautéed onions, and the Cajun, with scallions, spices, cheddar, and mushrooms, which are pattied per order to ensure the juices don't run.  Jimmy Mac's, 121 Main St., Bryson City; (828) 488-4700
Come Back Shack
The 3.7-billion burger combinations—you read that correctly—make this quick and casual greasy spoon anything but commonplace. Diners become a modern-day Michelangelo, creating their masterpiece from a range of proteins, buns, and toppings. Feeling overwhelmed by the options? Try one of the 14 preapproved combinations like the Fried Green Tomato Style, with fried green tomatoes, lettuce, homemade pimiento cheese, and Come Back sauce. And you can even upgrade your burger to local Watauga beef. Come Back Shack, 1521 Blowing Rock Rd., Boone; (828) 264-2797; www.comebackshack.com
Soul Infusion Tea House & Bistro
Soul Infusion might not be the first choice for meat lovers, but when it comes to veggie burgers, herbivores and omnivores rejoice. This gluten free "burger" is made from scratch daily with black beans, corn, cilantro, soy sauce, and some secret ingredients. Although the sandwich is made with plant-based products, this hip little joint ensures its burger is hardy enough to satisfy even the "hangriest" person. Soul Infusion Tea House & Bistro, 628 E. Main St., Sylva; (828) 586-1717; www.soulinfusion.com
Juicy Lucy's
For cheese lovers, Juicy Lucy's is the way to go. Here, the eight-ounce burgers are stuffed with white American cheese before being crimped and thrown on the grill. Homemade buns help sop up any heavenly liquid that may ooze out. Enthusiasts visit each month to get a bite of the featured Juicy Lucy. Juicy Lucy's Burger Bar and Grill, 620 Hendersonville Rd., Asheville; (828) 277-0355;
www.juicylucysburgerbarandgrill.com  
BE THE JUDGE
What: WNC Battle of the Burger
When: August 23, 2 p.m.; 1 p.m. for VIPs and judges
Where: Salvage Station,
468 Riverside Dr., Asheville
How Much: Tickets are free for general admission. VIP tickets are $30 for unlimited burgers, complimentary beer, early entrance, and a ballot to vote for WNC's Best Burger. www.wncburgerbattle.com
Benefits: Manna FoodBank