Beer Run
Beer Run :
Nantahala Brewing Company is the newest and most refreshing reason to head for Bryson City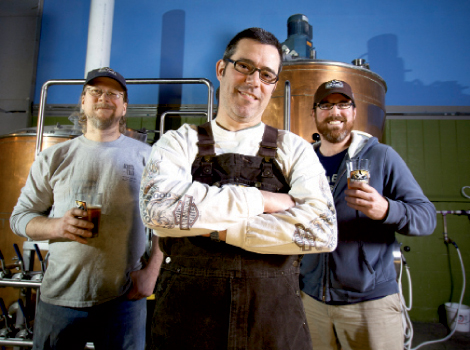 It's no mystery why most people schedule business meetings with Joe Rowland at 4:30 p.m. They're hoping to talk shop over a few beers with the Charleston, South Carolina, transplant, who's one of four partners at the new Nantahala Brewing Company in Bryson City. After all, beer is big business, and no one really plans to go back to the office after 5 o'clock.
With a tasting room that opened last month in a Quonset hut across from the Great Smoky Mountains Railroad Depot, NBC is already getting nods for its brewing acumen. This year, the Nantahala Common took silver and Nanny Light German-style ale won gold at the Carolina Championship of Beer. But locals aren't just excited about the prospect of tapping into an artisan stout, IPA, pale ale, or seasonal brew made with pure water from the Deep Creek watershed, they're enthusiastic about drawing more visitors to the town synonymous with the Nantahala River and outdoor adventures. "It's really fun getting people involved. People come up to me and say this is the best thing to happen to Bryson City in years," says Rowland, who envisions the brewery as a destination, rather than a distributor.
You may see a few bottles in Murphy or Sylva, but beer lovers in other locales will have to hit the road. It'll be worth the drive.
Nantahala Brewing Company, 87 Depot St., Bryson City; (828) 488-2337; http://nantahalabrewing.wordpress.com
Brew Crew: Three of Nantahala Brewing Company's partners Mike Marsden, Chris Collier, and Joe Rowland pictured above. Photograph Courtesy of Nantahala Brewing Company