The Bee Hotel at UNC Asheville is a New Pollination Station
The Bee Hotel at UNC Asheville is a New Pollination Station:
With their populations on the wane, bees find shelter at UNC Asheville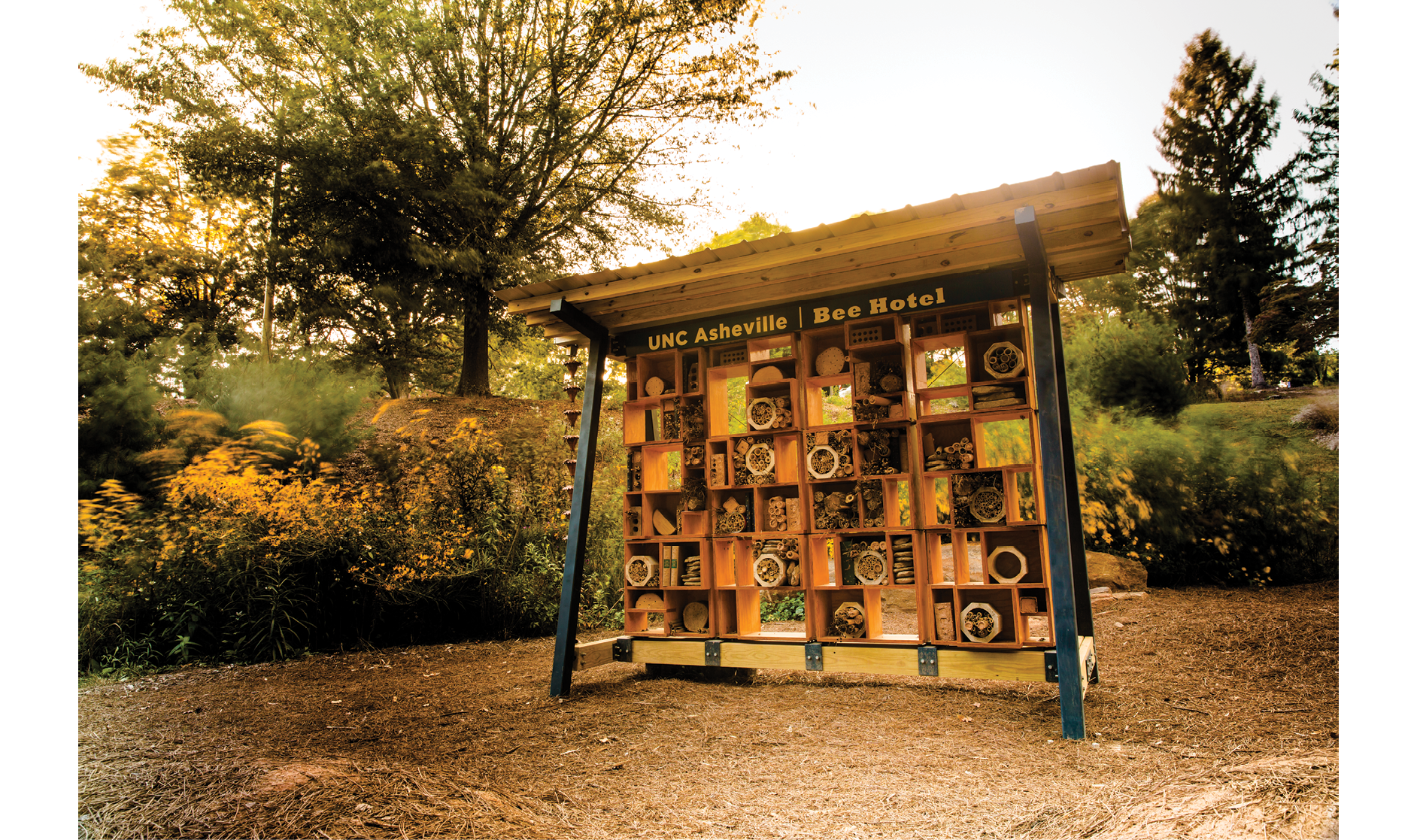 Hotel construction is booming in downtown Asheville, but lodging of a different kind buzzes with activity a few miles away at UNC Asheville. This spring, pollinators are checking into the on-campus Bee Hotel, a steel structure with wooden compartments filled with bamboo, rolls of cardboard, and dried hollow plants where bees can take refuge. Loss of habitat and exposure to pesticides threaten bee populations around the world, and the hotel is an effort to protect native ones.
Unlike honey bees, which live in hives as groups, solitary carpenter and mason bees nest in small cavities like the ones provided by the materials in the bee hotel. Though the project was unveiled in September 2016, new pollinators weren't expected for several months. There is evidence that bees overwintered in the structure, however, and more are expected as the weather warms.
The bee hotel is a collaboration with the Asheville Design Center. Students from Clemson University and UNC Charlotte spent 10 weeks designing and constructing the bee hotel as part of the Asheville DesignBuild Studio program. Students got a "crash course in bee biology," as ADC executive director Chris Joyell describes it, with field trips and presentations about the needs of pollinators.
The structure adds to ongoing environmental projects at UNCA, which has an established pollinator garden nearby, maintains pollinator meadows, and is certified as a Bee Campus USA. These efforts benefit not only bees but also the students who study and maintain the new hotel. It's been especially popular with visiting families and first-year students, says UNCA Director of Sustainability Sonia Marcus.
The project is also designed to inspire the local community. Jackie Hamstead, environmental specialist at UNCA, notes that elementary school students and residents of a retirement community have already visited. She adds that the location, near a greenway and weekly farmers market, was selected with community engagement in mind. Hopefully, Hamstead says, bee hotels will serve as a catalyst for spreading important information about pollinators. Marcus describes UNCA's as a "gateway to a deeper knowledge, a deeper appreciation, and a more complex view of the natural world."
---
Build Your Own Buzz
Bee hotel design drawings are available for free to noncommercial groups such as community gardens and schools. Visit http://sustainability.unca.edu/bee-hotel for details.
RESOURCES:
Photographs (2) by David Allen, courtesy of UNC Asheville