Bathing Beauties
Bathing Beauties:
Drink in five selections that pair well with the sun and surf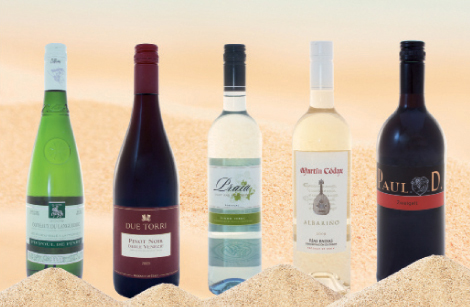 As the sultry heat of august hangs around us like a curtain, the beach beckons with refreshing breezes and cool waves.
Pack any of these affordable, pair-with-anything, twist-cap bottles in your basket, and whisk yourself away to the shore.                  
Coteaux du Languedoc Picpoul de Pinet (France) 2009 »  $10
From the south of France bordering the Mediterranean coast, this light minerally white speaks of the olive trees and sand dunes that form the landscape of its origin. It's excellent with vegetables, or as a thirst-quenching opener.
Due Torri Pinot Noir Delle Venezie (Italy) 2009 »  $13
Earthy, woody, and reminiscent of mesquite and forest, this Italian pinot is a great match for pheasant, guinea hen, quail, or rabbit.
Praia Vinho Verde (Portugal) »  $10
Evoking fresh-cut hay or grass, this affordable, breezy, bubbly wine is reminiscent of champagne. Serve it with oysters or mild cheeses.
Martín Códax Albariño (Rías Baixas, Spain) 2009 »  $15
A light, green-tasting, golden-hued beverage, this wine bears a slight bite, and pairs excellently with fish stew or salade niçoise.
Paul D. Zweigelt (Austria) 2009 » $11
Faintly sweet, slightly sultry, and rich red in hue, this would be a good wine to drink after a horseback ride on the beach or surf session. It complements hearty grilled steaks, sausages, or campfire-seared fish.