Arts Apart
Arts Apart:
Around the region, explore distinctly different visual exhibits, from Warhol to Appalachia and beyond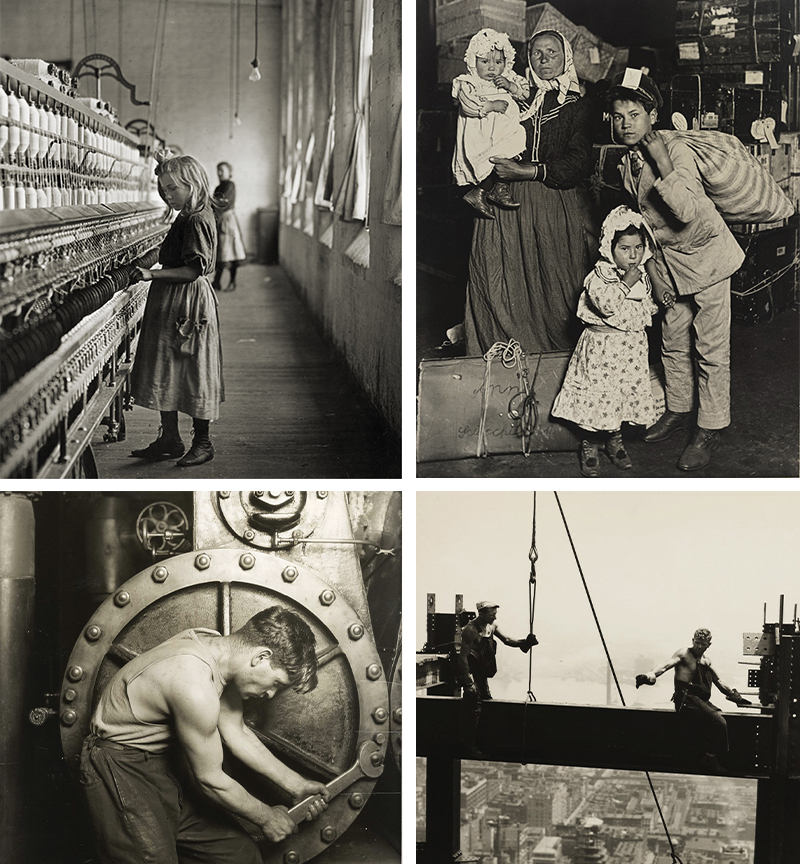 Our Strength is Our People
Asheville Art Museum, May 7-August 2
(828) 253-3227; ashevilleart.org
Survey the life work of Lewis Wickes Hine (1874–1940), the father of American documentary photography, through this exhibition that shares 65 rare, vintage prints. The images cover the three key themes of Hine's three-decade career: the immigrant experience, child labor, and the American worker. Viewers will find his studies of the construction of the Empire State Building particularly fascinating, but his haunting images of child laborers are no less absorbing.
Also a sociologist and teacher, Hine used photography as an educational medium that could help fuel social change and reform. His stark and stunning shots have resonated because of both their aesthetic quality and their unflinching view into the realities of a key period in our nation's history.
Works by Warhol
Hickory Museum of Art, through June 6
(828) 327-8576; hickoryart.org
Thirty-six iconic masterworks by the pop-art paragon Andy Warhol appear at Hickory Museum of Art. Assembled by prolific collectors Wes and Missy Cochran, the exhibition concentrates on pop culture staples like Warhol's images of Mick Jagger, Santa Claus, and Mickey Mouse. It also highlights works that depict the artist's response to major moments in US history, including JFK's assassination and the moon landing.
Museum executive director Jon Carfagno, who sought out the Georgia-based Cochrans, points out that viewers should pay particular attention to the pieces depicting Buzz Aldrin's walk on the moon, two of his personal favorites in the show.
"Having a pair of them allows us to see a bit into Warhol's creative practice," says Carfagno. "You have two color palettes on the same images. Both works of art are registered differently, the lines are slightly off. You can see how he experimented and that there is a degree of chance. With the images slightly different, each work of art can take on its own identity."
Warhol created his American Myths series, focusing on such recognizable images as Superman and Howdy Doody. Enthralled with celebrities since childhood, Warhol had collected images of movie stars for his bedroom, where he spent time bedridden from illness. Carfagno says this part of the exhibition reveals facets of Warhol's personality and worldview.
"This is one of the last major serial bodies of work [by Warhol] in 1981," he explains. "We see how later in life he was returning to his fascination with the pop culture staples that had comforted him as a sickly child. Here, he revisits what those figures mean to him and mean to the history of America."
Photographs are finalists in the 18th annual Appalachian Mountain Photography competition
Appalachian Mountain
Photography Competition
Turchin Center for the Visual Arts at Appalachian State University, March 5-June 5
(828) 262-3017; tcva.org
This high-profile annual competition, now in its 18th year, provides both amateur and professional photographers the opportunity to showcase their interpretation of the unique character, people, places, and pursuits of Southern Appalachia. A partnership between ASU's Outdoor Programs, the Turchin Center, and Virtual Blue Ridge, the contest provides over $4,000 in cash and prizes with categories like Adventure, Blue Ridge Parkway, Culture, Our Ecological Footprint, Flora/Fauna, and Landscape. The winning images will be announced on March 20 via a live-streamed event.
The exhibition's selection of photos—culled from some 800 submissions—reveals a fresh look at contemporary Appalachia. Of particular note this year: photographers captured images of the Blue Ridge Parkway's use as a refuge and "escape" into the peaceful open spaces, where natural social distancing has been sought out by more than the usual number of outdoor enthusiasts.