Artistic Flair
Artistic Flair:
Pick your next bottle with an eye on label design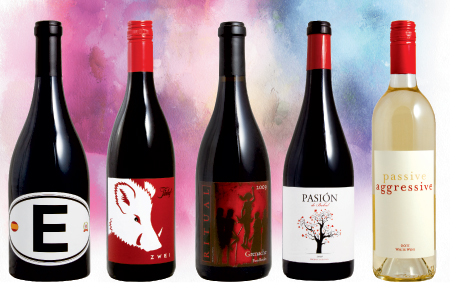 While the reward of opening a great bottle is ultimately the libation within, the allure of a handsome label cannot be denied. With bold and original appeal on the outside, this selection doesn't disappoint once the cork is drawn. 
Locations E-1
2011 Spain   » $20
The bold letter E denotes Espagne (Spain) and other bottles from this series sport an F for France and an I for Italy. At 14.5 percent alcohol, this young and fruity blended wine pairs well with a wood oven-fired pizza topped with sundried tomatoes.
Zwei Tinhof
2010 Burgenland   » $16
Dedicated to the wild boar family that roams the winemaker's vineyards in Austria, the label is meant to suggest strength and tenacity. The wine is full of citronella and cedar notes, a perfect pairing with a pungent, creamy, semi-aged goat cheese or rough cut of meat.
Ritual Grenache
2009 Paso Robles   » $15  
Graceful figures dance in a red haze on the label of this bold Grenache from Santa Maria, California. A touch of citronella lends a powerful nose to a wine that would pair well with a blueberry crumble or stand on its own at the end of a meal.
Pasión de Bobal
2009 Spain  » $14
The tree of life, festooned with red hearts, adorns this label. Made solely from Bobal grapes grown in extreme continental conditions, balanced with malolactic fermentation and aged for six months in French oak barrels, this is a good choice to pair with crusty country bread and butter.
Passive Aggressive
2011 Rogue Valley, Oregon  » $15  
"Some vintages tend to be more passive while others are more aggressive. Which one are you?" asks this label. A lovely mineral-infused white, this well-balanced blend would complement grilled shrimp with sautéed arugula or a Reuben on rye.