An Artful Oasis
An Artful Oasis:
A downtown loft gives this New Jersey couple an art-filled home away from home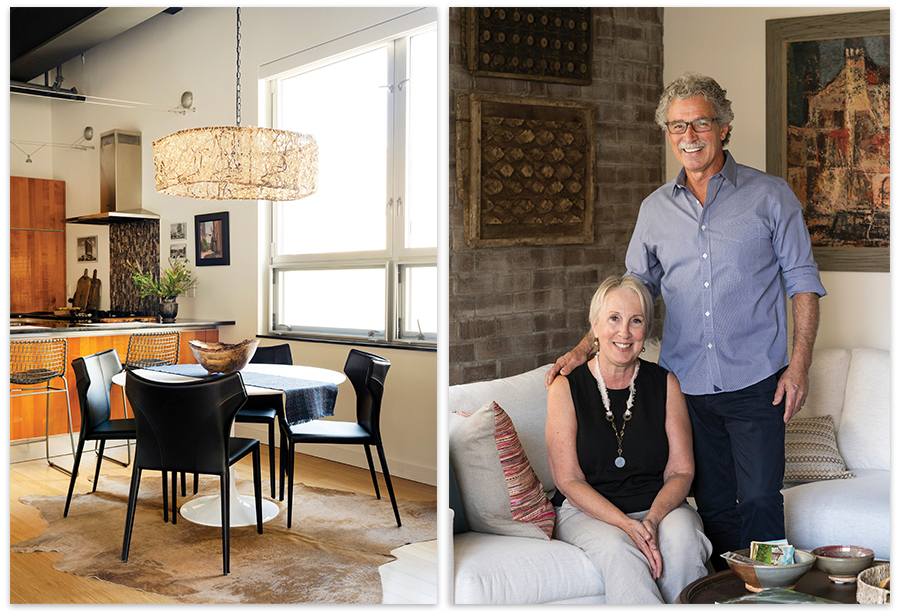 When searching for an Asheville pied-à-terre, Anne Marie and Frank Lombardo (pictured above) only looked at one property. Regular visits with their son Frank, Jr.—an artist based in Marshall—convinced them that having a base in downtown Asheville made more sense than continually renting hotel rooms. They wanted something with easy access to restaurants and all the vibrancy of downtown. When they entered the 700-square-foot space on Lexington Avenue, they didn't need to look any further. It was in "pristine condition," says Frank, Sr., albeit a little sterile. Ideally, the couple wanted the inside of the loft to "look like the outside"—mirroring the historic brick buildings and character of the area. They enlisted designer Courtney Hinton of Hearth + Home Interiors to help them achieve a "mountain urban" look that the designer says celebrates the couple's connection to the local art scene.  
A few creative touches warmed up the space immediately—tile enhanced with faux finish by local artist Anna Krauss created the illusion of an exposed brick wall, resembling the exterior of the building. Krauss distressed some of the furniture for a more lived-in look. Hinton identified work by local artists and craftspeople to strengthen the connection to the region, grouping a collection of North Carolina pottery atop the wardrobe and a kudzu light fixture by Robert Nichols of Splurge. For a time, Frank, Sr. says, the loft served as a "gallery" for Frank, Jr.—his art was prominently displayed, but left empty spaces on the walls when it was sold. Now there's a wall reserved for temporary exhibitions of his work, which the artist supplies in advance of their visits.  
The Lombardos say the loft is now a warm and inviting space. "We're here to enjoy Asheville and enjoy seeing our son," says Frank. With the windows open, the sounds and scents of the city drift in. They have the best of both worlds: a calm space in the center of Asheville's vibrant center.