Art & Craft
Art & Craft:
A Bryson City artist and vineyard team up to bring beauty to bottles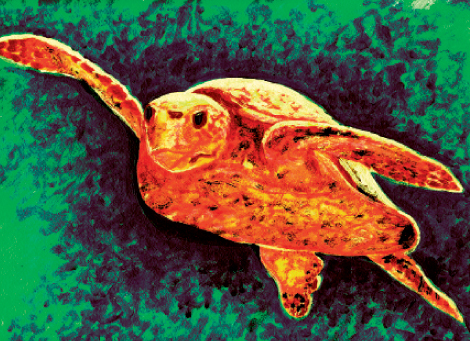 Savoring the combined creations of bryson city artist charles heath and Hinnant Family Vineyards makes one thing as clear as a bottle of muscadine wine: the two make an impressive pair.
Heath's works range from pen-and-ink drawings to photography, but it's his vibrant paintings that adorn three wine labels from the vineyard based in Eastern North Carolina. The collaboration began three years ago when Trey Herring, vice president of sales at Hinnant, spotted a moonscape print by Heath and knew it belonged on a bottle. "The whole concept was a fantastic idea to mesh the wine and fine arts industries together," says Heath. "It's brought a new kind of customer into the art world."
The piece now adorns Moondance Magnolia, a white wine similar to Riesling. Loggerhead Red features a sea turtle gliding through blue-green waters, while Electric Pelican, winner of a silver medal at the 2011 San Diego International Wine Competition, evokes images of North Carolina's coast.
The next time you're in Bryson City, stop by Heath's gallery, where you can pick up a bottle; it's a great way to support a North Carolina vineyard and artist. 
The Charles Heath Gallery
7 Depot St., Bryson City
www.charlesheath.com