Art Appreciation
Art Appreciation:
You don't have to own a Picasso to be a serious collector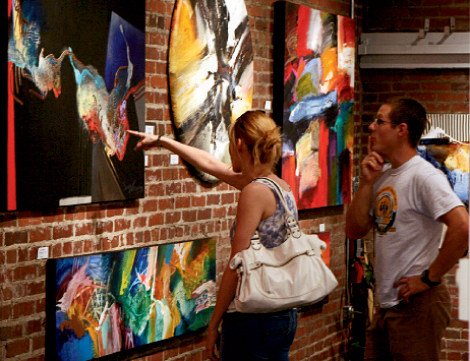 Whether your budget for art amounts to the admission fee for a museum visit or you're willing to spend an entire paycheck on one magnificent piece, you have the makings to become the next Peggy Guggenheim. OK, that's probably a stretch. At the very least, your love for art can translate into a collection of many one-of-a-kind pieces. But if you're making the transition from simply buying to collecting, heed these tips:
• Love at first sight: There are no hard and fast rules to choosing art. The happiest collectors buy what they love. So whether you want to collect as an investment, forever admire an artwork, or just find a piece to match the sofa, go with your gut.
• Strength in numbers: Check out collectors groups at local museums; they provide a forum for learning how works appreciate, as well as what makes a piece collectible. The Asheville Art Museum's groups Art Nouveaux and the more advanced Collectors' Circle teach enthusiasts how to choose art. You can learn the process from selection to final sale as these groups help make purchases for the museum's permanent collection.
• Do your homework: A strong collection comprises a meaningful grouping of works. So the more you know about an artist, the better. Read bios, academic résumés, and articles on your favorite artists, and start following their careers. "The biggest responsibility of collectors is to educate themselves on the artist and his or her craft," says David Trophia, co-owner of Crimson Laurel Gallery in Bakersville.
• The price is right: The value of a piece is determined by the costs for materials, time, how long the artist has been in the field, and the recognition they've received. Jane Willig of the Toe River Valley-based Artistree Consulting—a company that helps collectors select fine art for their homes and businesses—points out that investing early in an artist's career when pieces are more affordable provides a sense of personal satisfaction. When the work appreciates in value, "it's a lovely feeling knowing you were right about that artist," she says.
• Stay organized: Keep all financial records regarding the purchase of your artworks. It's smart to document your collection for posterity, but also for insurance purposes. And you'll need those documents when you generously donate your collection to a museum for generations to enjoy and appreciate.
Cuisine Art
Crimson Laurel Gallery hosts ticketed artist dinner lectures. The June event features Mark Hewitt. Call (828) 688-3599 for details.
Photograph by E. Paul Huisking