Apple of My Eye
Apple of My Eye:
Set your sights on these delicious ciders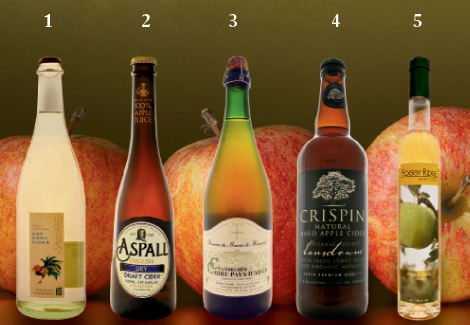 To celebrate the apple harvest, go with a fermented wine that deviates from the vine.
England and France are known for their bottled effervescent ciders, and in recent years American cider works have begun earning fine reputations as well.
Here's a sampling of offerings, from dry to sweet, to accompany you from appetizers through dessert.                                                                 
1. McRitchie Ciderworks Dry Hard Cider (North Carolina) $16.50
Delightfully sharp and effervescent, this dry hard cider is fashioned from heritage mountain apples to emulate Brittany's traditional, brilliantly clear, but poignant, beverage. Pair it with sharp cheddar cheese or a baked gratin.
 
2. Aspall Dry Draft Cider (England) $7
With depth and complexity that comes from russet apples, this flavorful, straw-colored beverage is a product of the 275th year of Suffolk Cyder production. Particularly floral with a mouth-filling mousse, this bottle can be enjoyed as an apéritif or an accompaniment to roasted pork.
3. Domaine du Manoir de Montreuil Cambremer Cidre Pays d'Auge (France) $10
A classic beverage from Normandy, the apple basket of France, this slightly sweet cider is a perfect foil for Camembert cheese or buckwheat crêpes. Or, try it with chicken braised in cream and apple brandy.
4. Crispin Lansdowne Artisanal Reserve with Irish Stout Yeast and Organic Molasses (Minnesota) $5
If you thought ciders were subtle, this one will change your mind. Fermented with yeast made from Irish Stout, organic honey, and molasses, this heady beverage is one to sip on a chilly evening. It pairs well with gingerbread or
baked beans.
5. Foggy Ridge Pippin Gold (Virginia)  $23
Intended as a bold aperitif or dessert complement, this 18 percent blend of cider and apple brandy will knock your socks off. Enjoy it with peach or apricot pie, or cheeses, including Gorgonzola, Roquefort, and aged Gouda.