Appalachian Trail: Sams Gap to Big Bald Mountain
Appalachian Trail: Sams Gap to Big Bald Mountain :
Distance: 12.5 miles round-trip, Difficulty: Strenuous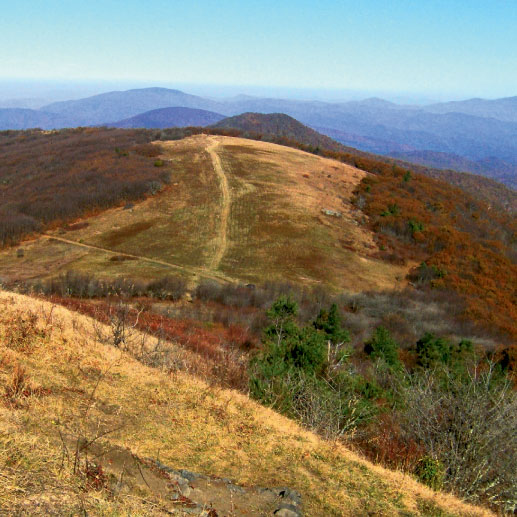 The vista from the summit of 5,516-foot Big Bald Mountain in Madison County is divine, and the demanding trek along the Appalachian Trail from Sams Gap to Big Bald is a worthy objective for ambitious hikers in its own right.
From the parking area, cross the road and follow the gravel trail that soon enters the forest. Navigating the trail is easily done on the white-blazed AT. After climbing steeply for the first mile and a half, reach a knob overlooking a meadow with a handsome snapshot of the route and Big Bald in the distance. Nearing the summit, the trail zigzags through rocky terrain and a stand of beech trees before ascending across a field of wavy grass surrounding the lofty high point of the mountain bald. Take snapshots, have lunch, and retrace your steps to the parking area.
Navigate: From Mars Hill, travel west on Interstate 26. Take Exit 3 (Wolf Laurel), then turn left on U.S. 23A. In roughly three miles, park in the lot on the left just before the I-26 overpass at Sams Gap.