An Appalachian Portmanteau
An Appalachian Portmanteau :
Sculptor Shae Bishop's mixture of clay and textile reflects on gender, history, and culture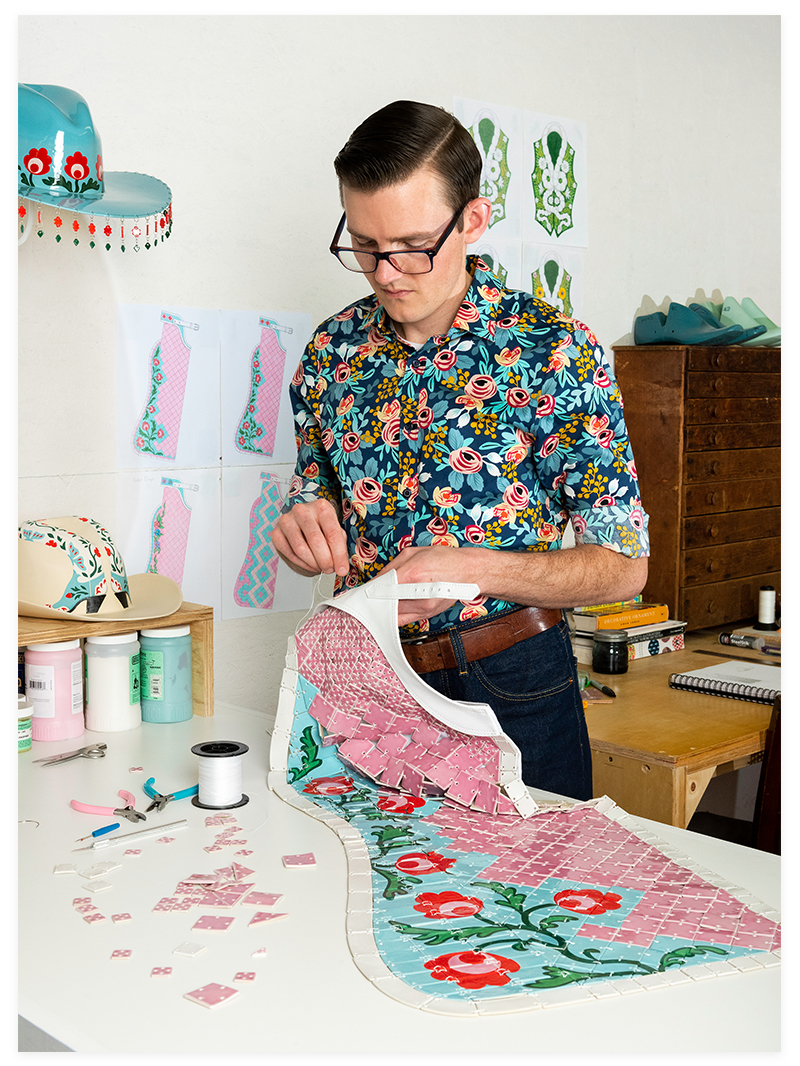 Ceramic tiles form to make a pair of chaps called Eternal Cowboy.
In the quaint community of Spruce Pine, TREATS Studios resides as a collection of small, local artists, including founding member Shae Bishop. Bishop creates one-of-a-kind wearable sculptures—a combination of textile and ceramic—that examine a variety of social and cultural constructs. Bishop is originally from Louisville, KY, where he first fell in love with sculpture. "I met a clay artist when I was nine years old, and was immediately entranced by watching him work," Bishop explains. He moved to the area in 2014 to study under Christina Córdova, an award-winning clay artist and instructor at Penland School of Craft. "I had just graduated college, and I'd been a ceramics major, but I was really interested in textiles and I wasn't able to take a lot of textile classes in college. And so I had heard about this place called Penland. I came here to take a weaving workshop . . . I was just blown away by how many amazing artists and craftspeople that I met, and how beautiful the area was."
"There's a humility and a kindness in this community of makers that is just really wonderful and appealing," he explains. "They want to share their resources with you. People are very helpful and it's a kind of community of makers that I've found to be really welcoming."
Scaled Art - Shorts to Wear While Looking For Pythons (above left) and A Swimsuit to Wear While Looking For Hellbenders (right) both draw inspiration from reptile skins. 
In 2021, Bishop, along with Annie Evelyn, Morgan Hill, Jack Mauch, Teresa Pietsch, Jeff Milloy, and Ellie Richards formed TREATS. "All of us were looking for studio space and everyone had some tools and equipment necessary for a studio, but not necessarily everything. And so we found this basement space in this cool old building downtown that needed a lot of work and rented it together as a shared shop space with private areas for each of us to make our artwork," Bishop explains. A few years later, the tenants of TREATS were given the opportunity to buy the building, and eventually expanded beyond the basement. The third story now holds affordable studios for rent, and the second will become a gallery for the resident artists to display their work. 
Bishop's unusual combination of mediums leads to unexpected inventions that are representative of both the artist and his place in history. Clay, a material used in human creations dating back to 14,000 BC, is a hard but workable callback to many facets of history and creativity. Fabrics, on the other hand, are soft, flexible, and wearable; used for clothing, they're often one of the most direct ways to express personality. Bishop was inspired by the architecture of Turkey, Hungary, and the Czech Republic.
Bishop says the amalgamation of these mediums is metaphorical. Ceramic, a "long-lasting" and "monumental" material, combined with something flexible and often impermanent like wearable fabric is an uncommon, but effective, method of expression. "I had been making work that was very directly historically referential, and trying to find a personal voice in my artwork," Bishop shares. "And I was thinking of merging those materials as expressing my journey to locate myself in the larger story of human culture." 
(Left to right) Coat, porcelain, underglaze, glaze, gold luster, cotton string, canvas; Garden Variety Cowboy, ceramic.
In the last few years, Bishop has been exploring themes of masculinity and gender through western-inspired gear. Garden Variety Cowboy, a ceramic Stetson cap, is decorated with images of colorful florals, bees, and swallowtail butterflies, and hanging from the rim is American Indian-inspired beadwork. "I'm really interested in these paradoxical moments where many people with very traditional masculine identities have these fashions that have unexpected elements, like high-heeled cowboy boots and tight jeans and brightly colored floral shirts," Bishop illustrates.
As an ode to his love of reptiles, A Swimsuit to Wear While Looking For Hellbenders is a fully functional ceramic-and-wool insulating suit modeled after the Eastern hellbender, a rare but iconic salamander that hides in cold mountain streams. It's made of 2000 individual clay tiles, and it took Bishop several months to stitch everything together. 
Currently, Bishop is continuing his juxtaposed craft. All-new Bishop originals will be on display at Tyger Tyger Gallery in downtown Asheville from November 3 through December 17. shaebishop.com 
Visit the Workshop 
TREATS Studios
216 Oak Ave., Spruce Pine
hello@treatstudios.org; treatsstudios.org