Angelique Tassistro
Angelique Tassistro:
Feast for the Eyes: Putting the fun in functional pottery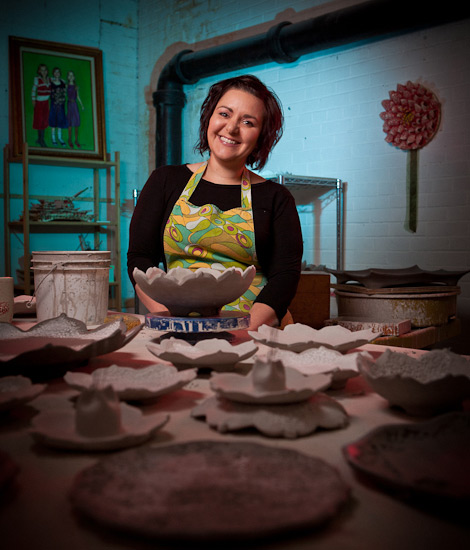 In her studio, Angelique Tassistro moves a group of unfired clay plates from a drying rack over to her worktable. One by one, she coats them with some chalky powder so they won't stick to an aluminum banding wheel. Slowly spinning each plate, she uses a thin blade to trim fine rinds off the piece's hard corners, developing a soft, round edge in the process.
"I hope you don't mind if I do this during the interview," she says. "It relaxes me." You can't argue with that. The slowly turning dish is oddly hypnotic. In about an hour, she has six party plates ready to receive whimsical under-glaze designs. Each one, imprinted with floral patterns, has a hole on the side that will caddy a partygoer's wine glass when these dishes eventually make the rounds at the hors d'ouevres table.
But ceramics wasn't always about dining accessories for Tassistro, who was voted On the Verge's People's Choice winner. She studied sculpture and fine art photography in college. "When I graduated, I had all these dishes and platters and pieces of functional pottery that I'd traded for with other students in school," she says. "And I used them often when I lived in Atlanta." It was after a few pieces broke that she realized how much she appreciated functional pottery. "It wasn't that those were just pretty things to me. Because I used those pieces so much entertaining friends, they had acquired a lot of memories. I actually liked them more than some of the sculptures I'd made in college."
After reconnecting with a former classmate who lived in Asheville, she relocated to WNC, set up a studio in her friend's basement, and started focusing on creating pottery that could serve food and fill an aesthetic role in home décor.
One example of this dual purpose, is a sushi set that stacks the platter, serving dishes, dipping bowls, and soy server into a pagoda-like form. When not in use, the collection is meant to be displayed as a piece of art. And then there's an set of hors d'ouevre platters that is complemented by some decorative lotus sculptures. She designed the grouping, plates and all, to hang on a wall when they aren't in service.
"I want people to enjoy my work. It's to be used and to be loved. And I want them to create their own good memories with them."