Up and Up
Up and Up:
The Carolina Climbers Coalition secures a choice bouldering opportunity in Watauga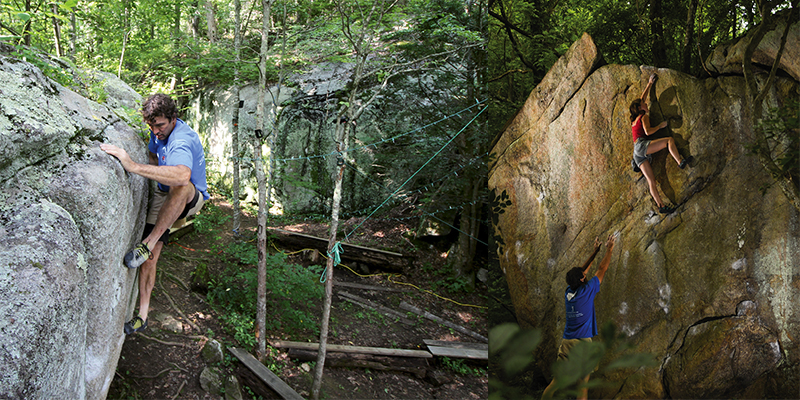 To support the conservation of Buckeye Knob and the Barn Boulders and learn about climbing options there, visit www.carolinaclimbers.org.
The High Country has its first dedicated recreational climbing area, thanks to the Carolina Climbers Coalition, a statewide nonprofit. Last fall, the group purchased 55 acres of remote woodland and an important watershed at Buckeye Knob in Watauga County, permanently preserving a longtime favorite spot for local climbers.
"It has a history and it's a beautiful spot," says Brian Payst, a Boone resident and CCC president. "It's in a cove and protects the upper part of the watershed, and from the ridge, you look out across to Tennessee." The property's former owners, Highland Forestry and Timber, considered logging the tract before concerned climbers approached them about buying it.
Once the purchase happened, appreciative neighbors rewarded the coalition with recreational easements, giving climbers easy access to their properties, including 180 rocks known collectively as the Barn Boulders. "It was nice to see the local community rally around the idea and help us make it happen," Payst says. "Everybody's trying to achieve a common goal."
With the land now protected, the CCC is busy raising funds in order to pay back a substantial loan and build a parking lot and trail system, which will be open to hikers as well. "As climbers, we are pretty excited," Payst says. "We think we can show that climbers are really good stewards and care about where we live."
RESOURCES:
Photographs courtesy of Carolina Climbers Coalition