Americana the Beautiful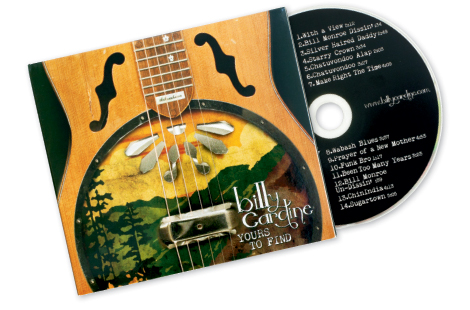 Between playing with Acoustic Syndicate, working on multiple musical projects, and welcoming a new son, Billy Cardine's time is booked. Yet, the Weaverville-based Dobro player has managed to finish a solo release that features an all-star cast of roots musicians: Biscuit Burners, Bobby Hicks, plus members of Punch Brothers, Town Mountain, Cadillac Sky, and others. Yours to Find (Indidog Records, 2011) was recorded over five years at Cardine's home studio whenever his musician friends visited. The result is a wide-ranging Americana compilation seamlessly tied together by Cardine's compelling steel guitar playing. From instrumentals ("With a View," written by Cardine in Costa Rica) to bluegrass ("Starry Crown," sung by Uncle Earl), to singer-songwriter tunes ("Make Right the Time," by Texas-based Danny Schmidt), the album's relaxed groove beckons like a hammock under a shade tree.
Cardine's mastery can also be heard on an EP to be digitally released this month showcasing Moog Music's new steel guitar, which he helped develop. Its electronic sustain gives his sound a space-age blues and Middle Eastern vibe that will appeal to the sonically adventurous. www.billycardine.