Aisle Style
Aisle Style :
Whitney Deal: Whitney Deal Designs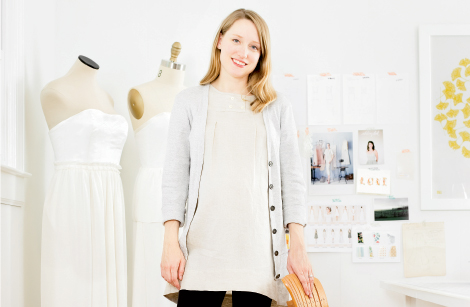 "I do dresses, I don't do gowns," says Wilkesboro native Whitney Deal of her popular lightweight and comfortable designs that forgo yards and yards of billowy fabric in favor of simple, flattering silhouettes. "Often when you think about wedding dresses, you think about going to a salon and trying on very large, elaborate, heavy dresses, and that's not what I do at all."
The overwrought production surrounding a dress purchase is what led Whitney to design her own wedding attire—a cap-sleeved beauty sewn by her mother which allowed her to dance unencumbered after saying "I Do" to her sweetheart, Dustin.
"You don't want to look like a bride, you want to look like a more beautiful version of yourself," says Whitney. "That's what I wanted, and what I want for others."
Embodying that reflection of personal style, her line of bride and bridesmaids frocks are versatile enough to be worn for any occasion. "I call the bridesmaids designs garden party dresses so that there's a different connotation of what they can become and what you can wear them for."
Silk is the predominant fabric choice for the bridal dresses, but garden party attire is all cotton. Whitney travels to New York a few times a year to source unique fabrics, specialty materials, and new ideas.
She began her career as a graphic designer and professional photographer before pursuing a fashion degree at Parsons New School of Design in New York. A year ago, she and Dustin returned to their hometown, allowing Whitney to bring her varied interests and professional experience together into one enterprise.
While she continues to design and hand sew her growing collection, the couple operate Oh, Darling!, a wedding photography business. Drawing upon her graphic arts background, she recently began designing floral and print fabrics, which she plans to introduce in the coming year. "I want to have more control over the patterns and colors I choose from," she explains.
So far, her website has opened an international market, eliminating the need for brick-and-mortar representation. "I really enjoy the independence of being able to work with people one-on-one and having that personal interaction," she says of her direct sales. "I want people to know it's me on the other side. It's more meaningful."
Buyers can choose from a variety of styles, from the knee-skimming, scoop-back Lola dress to the Lilium, a maxi with a crisscross back. Each piece is made to order, and Whitney works with customers to make small changes as requested. Soon she plans to implement a try-on program, wherein a customer receives samples they can consider for a few days before making the final selection. It's just another way she ensures the process is convenient and enjoyable.
Whitney sums up her philosophy with the same simplicity and good sense that make her designs and business so successful, "I want women to be comfortable on their wedding day."
---
Whitney Deal
www.whitneydeal.com