Adventure Capitalists
Adventure Capitalists:
Meet a group of outdoor entrepreneurs who mix business and pleasure in the pursuit of great gear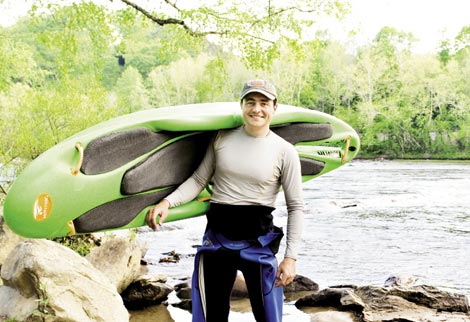 Bellyak
[Adam Masters]
On the bank of the French Broad River near Asheville, there are at least a dozen Frankenstein model boats congregating in the back room of Bellyak's design facility. These foam creatures in varying lengths, shapes, and colors are the forefathers of two polished Bellyak designs set for their official market debut at the Outdoor Expo in Salt Lake City in August.
Bellyak is just what it sounds like, a first cousin of the traditional kayak which you ride on your stomach. Wearing webbed gloves, riders use their arms to paddle and can pop up to kneel or stand. Adam Masters crafted the prototypes after a roaring trip down a flooded creek. He wanted to see if he could kayak the waterway laying on top of his boat, rather than locked into position with a spray skirt. The ride was a blast, and the idea was planted for a new type of watercraft.
Step one: Cut up old kayaks and use them as rough template molds. Step two: Test the prototypes on a particularly playful stretch of the French Broad River. Step three: Refine the lines until the center of gravity and handling on the water are just right.
After a year of design and testing, with some insight from his father, Bill Masters, who founded Perception Kayaks, Adam created two  crafts: the Frequency, made for river running, and Play, meant for surf. "I love the freedom. You feel like you're flying—like you're one with the water," Adam says.
There's been an unexpected benefit from the process, too. His wife, Anna, who is a member of the Bellyak team, is a white-water convert. She feels safer and more stable on the Bellyak than she ever did in a kayak, despite going head first down rivers. She likes the fact that she can hop right back on if she takes a spill. "It opened me up to seeing areas by way of the river that I wouldn't have before," she says.
www.bellyak.com
Misty Mountain Threadworks
[ Mike Grimm & Goose Kearse ]
By staying true to their roots of local production and quality climbing equipment, the owners of Misty Mountain Threadworks have carved a thriving business from the dense forest and rugged terrain that surrounds the company's headquarters in Valle Crucis. Owned by Mike Grimm and Goose Kearse, the business specializes in climbing harnesses and packs and bouldering crashpads.
The company's remote 5,000-square-foot facility more closely resembles a rustic mountain getaway than a manufacturing facility. Admittedly, being located more than an hour from the nearest interstate has its drawbacks, but Misty Mountain's proximity to some of the best rock climbing in the state makes up for it. Grimm and Kearse frequently head out to test their gear on nearby rocky crags and boulders.
Though many textile manufacturers shipped production out of the country years ago, Grimm and Kearse, who employ a staff of eight, refuse to outsource. Labor costs are higher, but the guys know the benefits of the equation. "I started working here because I like making climbing gear," says Grimm.
"It's a little bit expensive to produce locally, but it's worth it because that's what we love to do."
Misty Mountain has seen its business steadily grow over the years. In the early 2000s, when the sport of bouldering was taking off, the company was at the forefront of crashpad manufacturing and design, producing more than 1,000 pads each year. Since then, the company has evolved by providing harnesses and equipment to the zipline industry, outdoor youth camps, and the military.
Misty Mountain's harnesses are known for comfort and quality workmanship in the rock climbing world, and the dedication to detail is paying off.
"Sales are up and we're excited that we're able to create new jobs," Kearse says. "And that's what made in the U.S.A. is all about for us. That's the company that we want to be."                 
www.mistymountain.com
Trout Dancer Rod Company
[ Jesse Conner ]
Jesse Conner learned the art of making a bamboo fly rod out of necessity. He was hooked into a good size trout when every angler's nightmare came true: His rod broke. It was a no-name version passed down by a friend, and the first fly rod he'd owned. He decided his best option was to fix it, rather than invest in a pricey new one. He asked around and found Monty Kirby, an experienced bamboo rod maker who not only helped Conner fix his rod, but also taught him how to build his own.
Today, Conner crafts bamboo rods for his business Trout Dancer Rod Company from his studio in Columbus, and has garnered a reputation for quality work.
Rod making, like fishing, is a skill that takes practice. After six years, Conner can complete one in about 60 hours, cutting in half the amount of time it took to finish his first one. But the work is worth it when he hits the river. There's just something about the bamboo rods, the way they cast, and how it feels to land a fish on one, he explains. "When fishing for trout, I believe bamboo beats graphite hands down."
Conner builds his rods in a traditional style, relying largely on hand tools, many of which are older than himself. "The rods are basically made the same way they were 100 to 125 years ago," he says. "The glues and varnishes are better now, but the craftsmanship is the same."
Now retired, the former electrical engineer dedicates his time to his business, though volume isn't the goal. He currently has about 20 under his belt, four in production, and a handful of orders waiting to be filled.
Though most of his orders are custom creations, he also developed a signature line with styles suited for fishing environments ranging from tight mountain streams to wide, open rivers.
Conner has landed a number of large, memorable fish after long fights, but none stand out as much as his initial catch with his first homemade rod. "When I saw that fish flash, I knew it was a big fish," he recalls. "I thought, OK, that's the one I wanted."
A second later, fear hit. As the fish bolted into the current and his rod bent toward the stream, he worried the glue wouldn't hold. "I went into a panic," he recalls. "But I got the fish in and it was 18 and a half inches long."
The rod performed just how Conner had hoped. "It was everything I ever wanted," he says with a smile.
That feeling, a big grin, and the memory of a good day on the water are what Conner hopes all his customers to come away with.
www.troutdancerflyrods.com
Fritz Orr Canoe
[ Fritz Orr III ]
If you grew up navigating a canoe down the rivers of these mountains, you're a bona fide WNCer for life, even if your workshop happens to sit just across the state line in Landrum, South Carolina, on a knoll not far from Glassy Rock. Actually, Fritz Orr III has done more than ride a few rapids in the mountains, though he isn't one to blurt out that he's a four-time national white-water canoe champion. His grandfather and father ran the revered Camp Merrie-Woode outside Sapphire for 28 years. (See what we mean? Bona fide.)
Becoming a paddle craftsman might seem like a natural progression for someone who started boating at age eight, yet it came as a surprise occupation and passion for Orr. "I basically started by rubbing two sticks together, or gluing two sticks together I should say." He'd restored canoes and made a paddle now and again, but when he began to apply canoe-building techniques to paddle design a few years ago, namely using steam to bend wood and jigs to set it in place like the ribs of a canoe, the creativity began to flow. Unlike a canoe, which can take hundreds of hours to finish, one paddle rolls out in 15 to 25 hours and can be designed in a multitude of woods.
Ebony, cocobola, quilted maple, zebrawood, flaming birch, walnut, aspen, black walnut, white ash, basswood, cherry and more go into the strikingly handsome paddles that are named after waterways. There's the Selway, Nahanni, and the most popular, Edisto. The only exception in namesakes is The River Why, titled after author David James Duncan's book.
Last year, Orr made 100. This year, he'll double that. But he still intends to talk with each client to learn about the person who will trust his work on the water, or simply admire its handcrafted lines. "I try to interpret who the person is and produce a paddle unique to them," he says.
Each year, a handful of his creations are awarded to young men who've dedicated 10 years to Camp High Rocks, where Orr spent his childhood summers and still teaches canoe skills. Even with the success of his new business, he's dedicated to introducing others to the sport he loves. "Any time I get to be on the water," he says, "I'm happy."
www.taigan.com
Sylvan Sport
[ Tom Dempsey & Tom Reeder ]
While in tow, the Sylvan-Sport Go just looks like an elaborate transport for outdoor toys. Weighing about 800 pounds, the trailer stretches 11 feet in length, six feet wide, and four feet high—certainly more than enough heft to haul a couple of mountain bikes or kayaks. What onlookers don't realize, is it also pops up to become a camper large enough to sleep five.
"Kayaks, bikes, surfboards, ATV vehicles, dirt bikes—it can carry anything racks are made for and more," says Bonnie Chiles. She runs customer service for the eight-year-old, Brevard-based company SylvanSport. "The idea is that you want to go camping and take all your toys," she explains. "Otherwise, what's the point?"
Sylvan Sport is the brainchild of outdoorsman Tom Dempsey, who came up with the idea for a multifunctional camper out of his home in Cedar Mountain. Gear creation wasn't new to him. He'd spent a stint working for Coleman and later founded WNC-based Liquidlogic Kayaks.
"In the early 2000s, RV products were strictly for camping," says Tom Reeder, the chief engineer who helped Dempsey move the vision from concept to product. "He took the pop-up camper of 50 years ago and tailored it to today's active outdoor enthusiast."
While working out design kinks on the computer made the process much easier, it took 11 months of trial and error before the first Go rolled off the line in 2008. Nowadays, the SylvanSport team attends trade shows nearly every weekend and ships campers across the country and around the world. (The King of Jordan owns two.)
"Everyone brings their own applications to it," Reeder says. "At shows, it's cool to watch people stand in awe when they see how it works, and to witness their wheels turning when they start to envision their use for it. It's gratifying."
Another aspect of the Go that Reeder and his cohorts enjoy sharing is that almost all of the components are manufactured within a 250-mile radius of Brevard. And in the near future, once production of the tent moves from overseas, it will be a 100-percent American-made product.
www.sylvansport.com
 
RESOURCES:
Written by Eric Crews, Rita Larkin & Melissa Reardon