In the Act
In the Act:
Aspiring thespians find their voice, and more, at Stella Adler Studio of Acting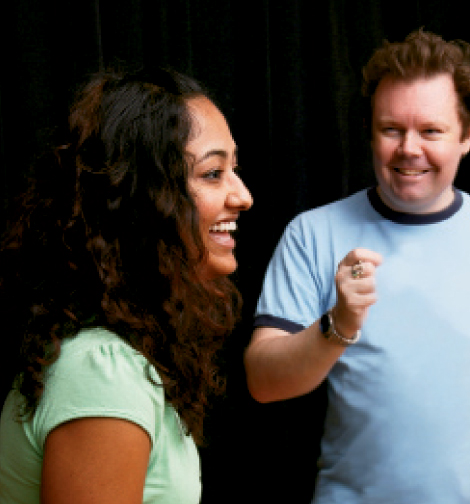 Aspiring thespians find their voice, and more, at Stella Adler Studio of Acting
Asheville may be thousands of miles off-Broadway and even farther from Hollywood, but it's the new home for a satellite branch of the Stella Adler Studio of Acting. It won the role when alumnus-turned-teacher Dusty McKeelan arrived in town and hosted the first workshops last September.
The school's name is big in the acting world—alumni include Robert De Niro, Benecio Del Toro, Harvey Keitel, and Cloris Leachman, among others. McKeelan and Richard Handy, a New York acting veteran known locally for orchestrating wacky philanthropic events, including the Asheville Pillow Fighting Championship, are teaching according to the school's thought-provoking tenant: "Growth as an actor and growth as a human being are synonymous."
If it sounds like a blend of self discovery and philosophy, that's because it is. The 12-week sessions held at 35 Below at Asheville Community Theatre are based on the methods of the great acting teachers, including Sanford Meisner and Constantin Stanislavski. The students work on physical freedom and movement, breathing, listening, and voice, and are encouraged to focus on the moment, or as Handy puts it, "keep out of your head and in your heart." With each exercise, the goal isn't to elicit a preconceived reaction, but rather to allow the students to respond as their honest selves. "We aren't putting them in a mold," he says. "It's about freedom of mind, body, and instincts."
In addition to strengthening actors' skills, the two are looking to play a greater part among the wealth of theaters across the region. "This degree of training will foster growth of the theater community as a whole," says McKeelan. "Our dreams are boundless. We will continue to grow until we've served every actor we can find, and we consider ourselves incredibly fortunate that people want to take this ride with us."     
The Core Program
Begins the week of September 11, for ages 15 and older. There are no auditions or previous acting requirements for the class, but applicants are interviewed. 35 Below; 35 E. Walnut St., Asheville; $550;
www.stellaadler-asheville.com.     
Shakespeare Saturdays!:
Every Saturday in August, Stella Adler Studio of Acting invites anyone—from
seasoned professional to novice—to perform a Shakespearean piece or scene in the courtyard in front of Pack Place. Scripts will be  available. A director or acting coach will offer guidance. Warm-ups start at 9:30 a.m., and participants must arrive by 10:30 a.m. Presentations are from noon to 1:30 p.m.
RESOURCES:
Photographs: Courtesy of Stella Adler Studio of acting