50 Ways to Play—Summer
50 Ways to Play—Summer:
In the summertime, warm waters, cool nights, and unfiltered sunshine coalesce in a bucolic, unfettered burst of beauty. And There's no shortage of ways to enjoy it; work up a sweat or take a cool dip—there's something for everyone in this sweet season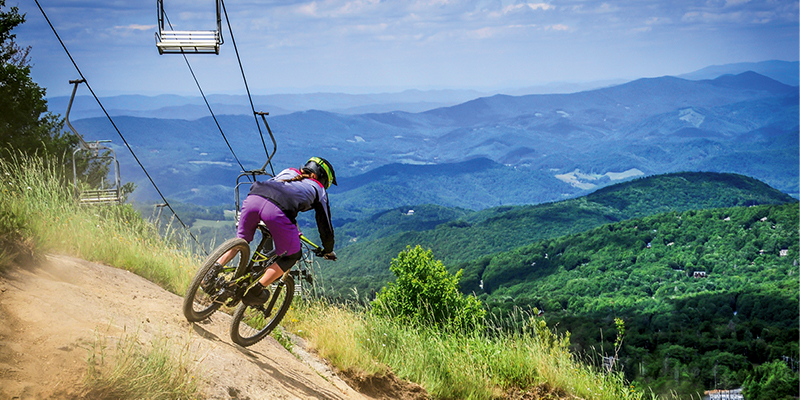 Ride the Slopes 
You don't need the powdery stuff to enjoy WNC's slopes; in the summer, tires replace skis at favored winter destinations. Sugar Mountain's winding trails are open to mountain bikers from dawn to dusk in the off-season. The mountain biking trails and amenities at Beech Mountain Resort are so impressive and extensive that they often host national championship races. In the heat of summer, Beech Mountain becomes the highest bike park in the East; the lifts are outfitted to accommodate the warm weather sport, delivering bikers to the 5,506-foot peak with ease. The extensive trail system has something for everyone, with mellow slopes for beginners and rocky routes for the seasoned rider. The resort even has a team of talented instructors on hand for lessons. Riders can cool off and rehydrate at 5506', a glass roundhouse at the top of the lift offering a beautiful panorama of the surrounding Blue Ridge and, more importantly, a full-service bar. www.skisugar.com; www.beechmountainresort.com
Tube the Tuck
A relaxing tube cruise down the Tuckaseegee River is a great way to explore the great outdoors, no manual labor required. Embark from Dillsboro and reserve time to explore the town too. www.northcarolinarafting.com
Go Down Under
"It looked like the arch of some grand old cathedral, yet it was too sublime, too perfect in all its beautiful proportions, to be anything of human," wrote Henry E. Colton of Linville Caverns upon discovering the system of tunnels in the early 1800s. Stalagmites and stalactites dress the series of caverns buried in the heart of Humpback Mountain, which are open for admission daily in McDowell County. www.linvillecaverns.com
Meet the Natives
(Mountain) lions and otters and bears, oh my! Appalachia is home to hundreds of indigenous mammals, birds, reptiles, and amphibians, and you'll find most of them in the exhibits at the WNC Nature Center. www.wncnaturecenter.com
Reach Great Heights
Named for its rocky, subtle face sculpted by 1.1 billion years of weather, Grandfather Mountain towers at 5,946 feet. The preserve capitalizes on its soaring views and unblemished landscapes with a host of attractions: Take a thrilling traipse across the Mile High Swinging Bridge; study local wildlife like cougars and otters in "environmental habitats," exhibits that replicate their natural territories; or tour the Nature Museum. Hike one of the mountain's 11 trails in summertime and espy the swaths of wildflowers, like phlox, rhododendron, and black-eyed susans, that blanket the hillsides and root into rock crevices. www.grandfather.com
Chase Waterfalls
They don't call it The Land of Waterfalls for nothing. Transylvania County is positively bubbling over with waterfalls—250 of them, to be exact. Just off 276 in Pisgah Forest you'll find plenty of nature's fountains, including popular mainstays Looking Glass Falls (with a handicap accessible viewing deck) and Sliding Rock Falls, rife with kids of all ages taking the icy plunge down the smooth rocks into the pool below. Just around the corner, Moore Cove Falls is a perfect picnic spot; the boulders behind and under the falls offer a surprisingly dry respite after the quick and easy hike. If you'd prefer the road (or river) less traveled, head to Gorges State Park and take the challenging Grassy Ridge trailhead to Turtleback and Rainbow falls, or backtrack to the Upper Bearwallow trailhead, an easy one-mile loop that leads to the falls of the same name. www.visitwaterfalls.com
Cast a Line
Don your waders and take to the trail—the WNC Fly Fishing Trail, that is. The first of its kind in the US, the trail meanders along the creeks and gullies of Jackson County, highlighting 15 fishing holes along the way. Fly fishers will find brook, brown, and rainbow trout in active streams like Panthertown Creek and its forks. If you're new to the art of casting, consider a guide; there's a detailed map of the trail and plenty of guide suggestions at www.flyfishingtrail.com.
Float On
The shores of Fontana Lake boast dozens of cabins, but the amphibious vacationer can keep their feet off dry land by booking a houseboat. Accessible only by boat, Prince Boat Dock's floating cabins feature all the amenities of a house—two bedrooms, kitchen, bathroom, and sun deck—on an aquatic foundation. www.princeboatmarina.com
Paddle the New
In West Virginia, the New River is considered primo white water, but at its confluence in WNC's Ashe and Alleghany counties, the water offers a placid cruise via canoe. Embark on a trip for a few hours or, for the adventurous mariner, days. You'll be navigating one of the world's oldest rivers and the only major waterway in the US that flows north. www.canoethenew.com
Dig This! 
"At Emerald Village you're not in some fake roadside 'mine;' you are walking in the footsteps of hardy miners in mines that actually produced a huge variety of gems and minerals," says Alan Schabilion, whose parents founded the attraction and museum almost 40 years ago. Pick up a pan and sift for gold, or grab a bucket filled with ore sourced from local mines and comb the soil for gems. If you want the real deal, pick up a permit at Emerald Village and head to the Crabtree Emerald Mine to prospect and dig for emeralds. (Tiffany & Co. sourced from the mine in the late nineteenth century.) www.emeraldvillage.com
Take Flight
Experience tandem hang gliding with family-owned and operated Thermal Valley, the only such outfitter in the region. Though it's a tandem experience, your instructor will let you direct the glider until it's time to land. The unpowered flights take place during weekends, April through October. "Throughout their life, our past students will look up at the sky and say 'I've been up there!'" says co-owner Laura Pearson. You can, too. www.thermalvalley.net
Float Your Boat
Propeller-powered or paddled, boats are a great way to explore WNC's dozens of man-made lakes. Check out NCWildlife.org for information about local lakes and boat access, or look to this list of favorites for a day of maritime adventure.
Lake Lure is great for everyone. Risk-takers: Try tubing or wake boarding. Traditionalists: Find a placid cove for kayaking or canoeing. Surrounded by the Nantahala and Cherokee national forests, Lake Hiwassee offers a peaceful respite for kayakers and canoers. Also located on the Hiwassee River is Lake Chatuge, a favored destination for sport fishing thanks to the lake's many finger-like coves. Linville Gorge's Lake James has two ramps for powerboats, sailboats, and smaller crafts. Try a slow-chugging pontoon on Lake Santeetlah, which is so beautiful it's often included in national round-ups of spectacular lakes. At the edge of the foothills you'll find W. Kerr Scott Reservoir, the Yadkin River Valley's destination for all types of boating. Fontana Lake's deep, cool waters are ideal for fishing; it's often cited as one of the best smallmouth bass lakes in the country. Jackson County's Lake Glenville is situated at the highest elevation of any lake east of the Mississippi. Rent a pontoon or something paddle-powered at the Signal Ridge Marina and check out the lake's three waterfalls. Boaters who live or rent within Lake Toxaway Estates have access to a particularly secluded marine amenity, the largest privately held lake in the state. Nantahala Lake is also popular among fishermen, and you'll find the South's only lake population of freshwater kokanee salmon in the crystalline waters. To the east, Lake Hickory harbors lots of bass and crappie.
Raft the Nantahala 
The Nantahala Outdoor Center is among the most recognized white-water outfitters in the world, and with good reason. An 8-mile trip down the Nantahala River's navigable rapids is perfect for paddlers ages seven and up, especially with the aid of a seasoned NOC river guide. (The center has trained or employed 23 white-water Olympians.) www.noc.com
Study American History 
Before Boone and de Soto, there was one name in these hills: Cherokee. The namesake city still harbors the Carolinian natives' heritage. At Oconaluftee Indian Village, visitors step back in time to observe Cherokee traditions like canoe hulling, basket weaving, and cultural dances. The Museum of the Cherokee Indian tells the kaleidoscopic story of the people's 11,000-year history. That rich narrative comes to life during Unto These Hills, a dramatic retelling of the Cherokee story. www.visitcherokeenc.com
Win the Lottery
Call them lightnin' bugs or fireflies, the synchronous species in the Great Smoky Mountains National Park give credence to both epithets. The rare fireflies flash in synchronous union across the hills in late May and early June, sparking a fervor for tickets that's answered with an annual lottery (usually in April).
---
Check out 50 Ways to Play for the other seasons:
RESOURCES:
Photographs (biker) courtesy of Beech Mountain Resort; (otter) courtesy of WNC Nature Center; (Grandfather Mountain) courtesy of Grandfather Mountain Stewardship Foundation; (Schoolhouse Falls) by Andy Ormond; (houseboat) by Steve Mann; (gem mining) by Julie Wood; (hang gliding) courtesy of Thermal Valley; (rafting) courtesy of Nantahala Outdoor Center; (Lake Lure) by Clint Calhoun