'Tis the Season
'Tis the Season:
Sugarcoat the holidays with a classic cookie martini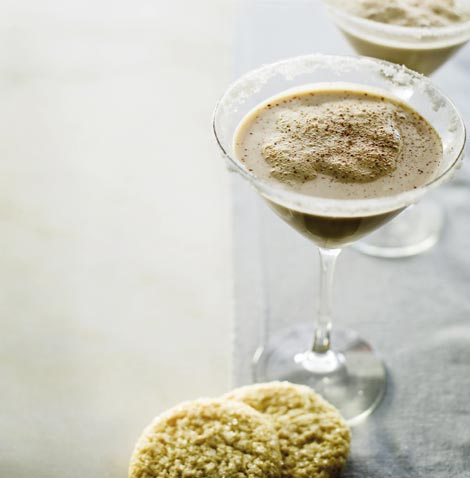 The holiday cookie martini is a ubiquitous elixir with wildly varying ingredients. But the sugar cookie version devised by mixologist Grant Maher holds the added distinction of being served in the charming setting of Blowing Rock.
Five years ago, as bartender of Bert's Bar at Blowing Rock Grille, Maher was experimenting during the lull that comes just before the holidays. "Everybody has their favorite drink," he says, "but a lot of people come to a destination like Blowing Rock and ask, 'What's special?' We wanted to have an answer for them."
The Grille's offerings include 22 martinis, including a popular chocolate version and an appletini in the number one and two spots.
The holiday treat shakes an elegantly simple mix of Absolut Vanilla with Godiva Chocolate liqueur and cream, served in a glass rimmed with sugar and sprinkled with a dusting of cinnamon.  
Couple the warm atmosphere of the restaurant's bar with holiday lighting and a Christmas tree glowing in the front window and you have a scintillating setting that dances in the rim of a glass coated with sugar crystals. Sip this creamy, simultaneously sharp and deliciously sweet concoction, and the cookie flavor comes through.
"It's an enticing offering that never needs a hard sell," says Grille owner Larry Imeson. He calls this a perfect holiday drink, in part because it capitalizes on the already great atmosphere of winter in the mountains. Originally the sprinkle on the top was nutmeg, not cinnamon. Today, the dusting on top is always Blowing Rock. "One or two sugar cookie martinis," he says, "and you're perfectly prepared to stroll among the festive decorations of Main Street and really enjoy shopping."
Sugar Cookie Martini
(yields 1)
4 oz. Absolut Vanilla
2 oz. Godiva Chocolate Liqueur
Splash of cream
Sugar
Cinnamon
Add all ingredients to a shaker filled with ice and agitate vigorously. Dampen rim of martini glass and coat with sugar. Strain mix into the glass, add a dusting of cinnamon, and serve.
Blowing Rock Grille
349 Sunset Dr.
Blowing Rock
(828) 295-9474
www.theblowingrockgrille.com