Dark Chocolate Cranberry Almond Bark
Dark Chocolate Cranberry Almond Bark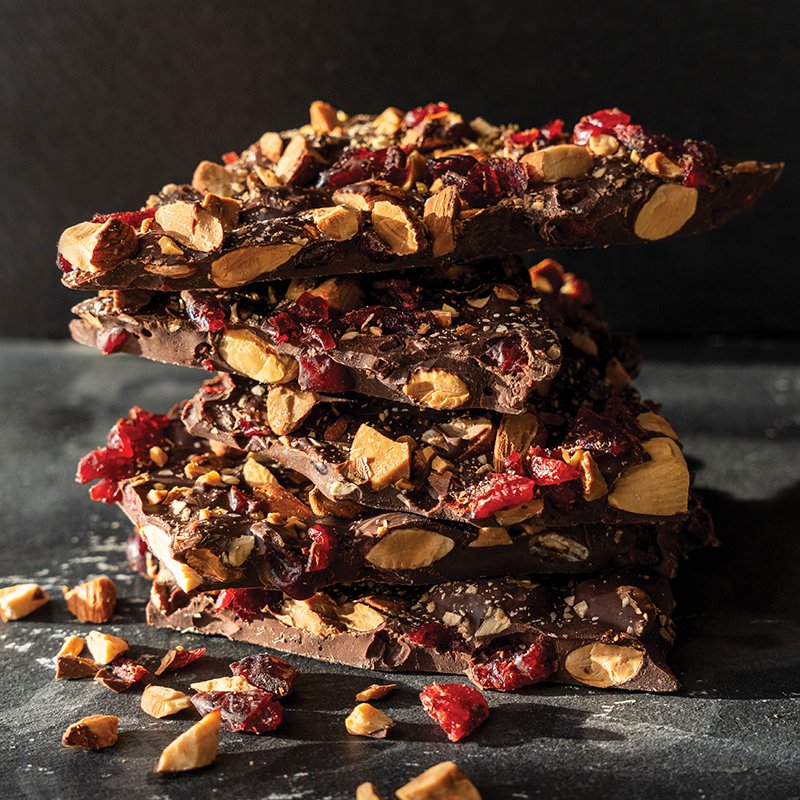 INGREDIENTS:
4 cups high quality semi-sweet chocolate
1 ½ cups raw whole almonds
¾ cups craisins
DIRECTIONS:
Preheat the oven to 350°F. Roast almonds on a sheet tray until they are visibly browner, 15 to 20 minutes. Cool. Take a small handful of craisins and almonds, roughly chop and set aside. 
Melt the chocolate slowly over a double broiler on very low, stirring often. Alternatively, you can microwave the chocolate at 30 second intervals, stirring as it melts, until it is smooth and glossy. Do not overheat the chocolate. 
When smooth, glossy, and melted, add whole roasted almonds and whole craisins. Stir well to enrobe the nuts and fruit. Pour onto a sheet tray lined with parchment paper or saran wrap and spread to 1/4"-1/2" thick. Sprinkle the rough chopped almonds and craisins evenly on top for garnish. 
Refrigerate for one hour. Break into chunks and store in an airtight container in the refrigerator or freezer. 
Well Bred Bakery
wellbredbakery.com
26 N Main St, Weaverville
9 am-4 pm, Sunday-Thursday; 9am-5pm Friday-Saturday
(828) 645-9300
6 Boston Way, Asheville
9 am-4 pm, Sunday-Thursday; 9am-5pm Friday-Saturday
(828) 774-5307
1 Page Ave, Asheville
9 am-4 pm, daily
(828) 470-7700
232 Reems Creek Rd, 
Weaverville
8am-3pm, Monday-Saturday
(828) 645-9300