Canolli Cake by Karen Donatelli
Canolli Cake by Karen Donatelli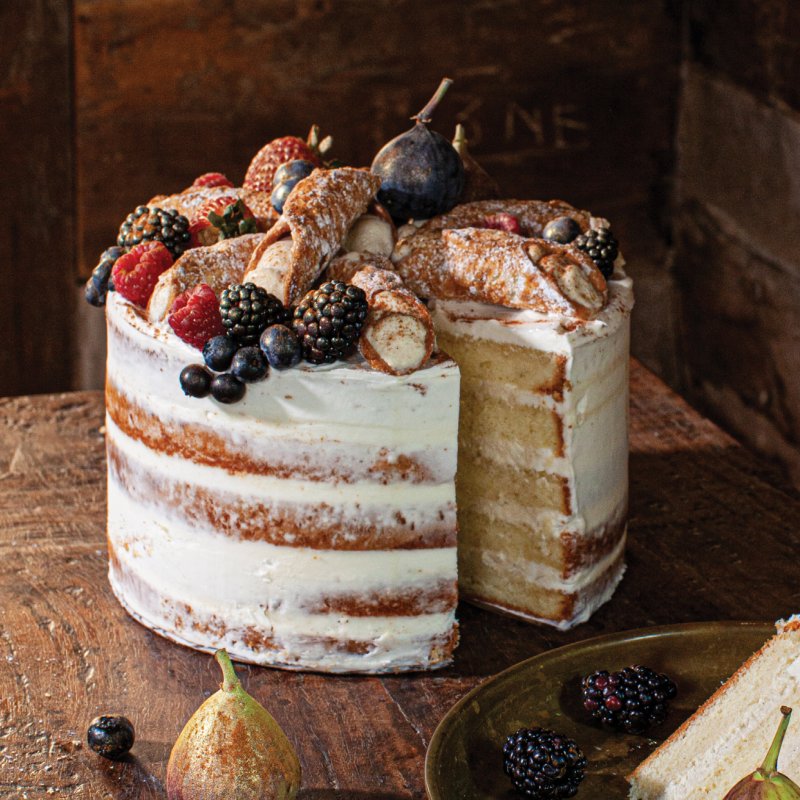 INGREDIENTS:
Miniature cannoli shells (12)
Cardboard cake circles (4)
Whipped cream (purchase or make your own simple version)
1 chocolate bar
12 oz. ricotta cheese
16 oz. milk
4 oz. sugar
1.5 oz. butter
2 oz. cornstarch
6 oz. eggs
1 Tbsp. vanilla beans (seeds only)
Optional: 2 oz. amaretto, rum, or cherry liqueur
DIRECTIONS:
Day-before preparation:
Prepare 2 8" round vanilla cake recipe or traditional sponge cake of your choice: use your favorite recipe that works well with filling and slicing into halves. The baked cake should be about 3 inches high. Refrigerate overnight, then slice dome off to level and then slice into 2 so that you have four even layers of cake. Utilize cardboard circle rounds to divide each layer. Return to refrigerator after slicing for best results.
After the cake is baked, while oven is on, continue with preparation of cannoli shells. Purchase cannoli miniature shells at your grocer or online, make a powdered sugar and cinnamon mixture, dip the shells and roll them into the mixture, toast the shells in the pre-heated oven at 350°F for about 10 to 12 minutes, and let cool prior to filling.
For the pastry cream:
Combine 10 ounces of milk, 2 ounces of sugar, and the butter into a saucepan and bring to boil over medium heat, stirring to dissolve the sugar. Meanwhile, combine the cornstarch and remaining sugar, whisk together, add the remaining 6 ounces of milk, and add the eggs and flavoring, whisking together until completely smooth. Temper the egg mixture, adding about 1/3 of the hot milk while whisking together—be careful not to scramble the egg, whisk vigorously, and then return the mixture to the hot milk. Continue cooking, stirring vigorously with the whisk, until the pastry cream comes to a boil (be careful not to scorch the cream) and until the whisk leaves a trail in the cream. If desired, add the liqueur. Place in a shallow stainless-steel pan and cover with plastic wrap close to and in direct contact with the cream, then cool in ice water bath. Store in refrigerator; can keep for up to three days.
Complete the cake:
Drain 12 ounces of whole ricotta cheese with a cheesecloth or sieve until moisture is released—about 2 hours. Place part of the pastry cream that's been chilled overnight, about 8 ounces (reserving the remaining 4 ounces), in a mixing bowl with paddle and smooth gently. Incorporate about 8 ounces drained ricotta by folding it in (reserving the remaining 4 ounces); do not over mix, just slightly until spreadable. Chop chocolate and fold in chips.
Start with first layer of cake, making sure that a cardboard circle is underneath the cake layer, and place prepared filling on top of cake layer. Use about 4 to 5 ounces of filling per layer, be careful not to fill with too much filling, then add the next cake layer, filling, cake layer, filling, and finally the last cake layer, making sure all layers are even. Place gently in refrigerator and prepare whipped cream for frosting.
When frosting the cake, be gentle, frosting the top first and sides second. (You may also use a cream cheese frosting if you prefer for a richer taste.)
Gently mix the reserved ricotta and pastry cream and fill the cannoli for decoration, sprinkling with vanilla beans. Add berries if desired, placing them gently on the top of frosted cake, being careful not to place too much or too heavy. Cannoli and berries can also be placed around the bottom of the cake plate. Keep refrigerated until ready to set out. A well-refrigerated cannoli cake can set out for about 2 hours prior to serving.