Butter-Roasted Apples & Buttercake Crumble
Butter-Roasted Apples & Buttercake Crumble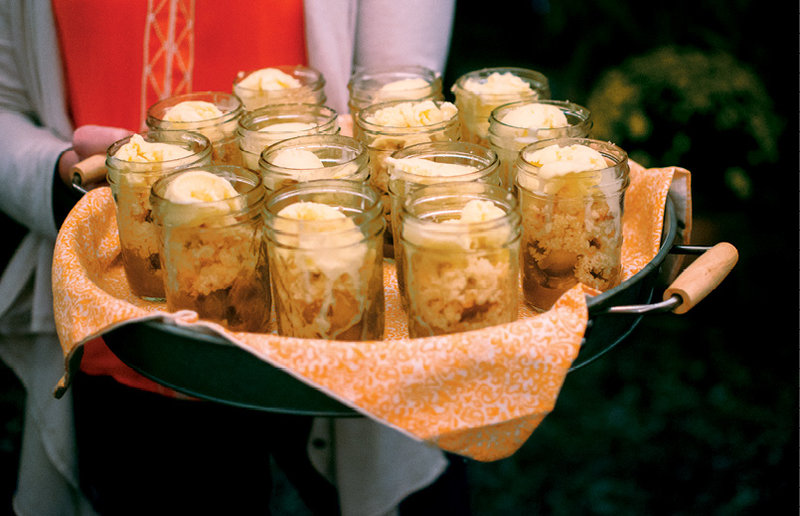 INGREDIENTS:
2 sticks (16 Tbsp.) butter
4 lbs. cooking apples (Arkansas Black, Winesap or Granny Smith), peeled & diced into
1-inch pieces
1 tsp. cinnamon
Salt
Juice of one lemon
10 oz. all-purpose flour
7 oz. sugar
9 oz. butter, cold
1 egg, beaten
DIRECTIONS:
In a heavy-bottom pan or Dutch oven, melt one stick of butter over medium-high heat and let foam. Add half of the diced apples. Do not stir. Let caramelize for three minutes, then stir, and cook until just tender. Transfer apples to a large bowl. Repeat with remaining butter and apples. Once all apples are cooked, add cinnamon, pinch of salt, and lemon juice. Toss well and let sit.
To make the Buttercake Crumble, preheat oven to 350°F. In a bowl, combine flour, sugar, and a pinch of salt, and mix well. Cut cold butter into small cubes. With your hands, mix the butter into the flour mixture until it resembles coarse cornmeal and butter is slightly smaller than pea-sized pieces. Add egg and mix until just combined. Butter a nine-inch pie dish and press dough into dish. Bake for 30-35 minutes. Let cool before removing from pie dish and crumbling.
To serve, place warm apples in the bottom of a bowl or ramekin, crumble buttercake over top, and finish with a scoop of ginger ice cream.