Burning Love
Burning Love:
Forty years after Elvis rocked Asheville, the city's still all shook up about it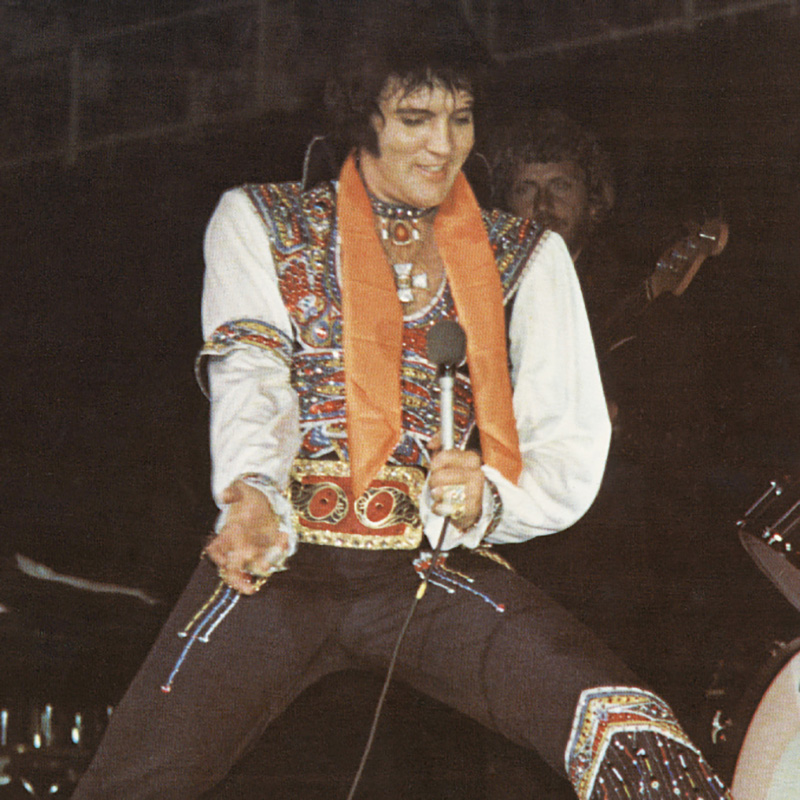 I'm looking back on my life,
To see if I can find the pieces.
Lord, the pieces of my life,
They're everywhere, they're everywhere.
—From "Pieces of My Life,"
which elvis sang in asheville at his father's request
 
Elvis Presley breezed through Asheville virtually unknown in 1955, opening for acts he'd soon eclipse. By the time he reappeared here, for three sold-out shows in late July 1975, it was anyone's guess as to whether the superstar would shine on or burn out.
The tickets cost only $10, but for many local fans, he was still the undisputed King of Rock 'n' Roll. At the same time, Elvis, addled by teeter-tottering moods and a heaping helping of pills, was at risk of becoming a jester. One of his buddies would later recall that Elvis was then as unpredictable as "a ping-pong ball going down the hallway."
He was getting mighty big, and not exactly in terms of popularity. With faint praise, an Asheville Citizen reporter who attended the first show judged Elvis "paunchy but pretty." Nancy Fox, a local resident at one of the shows, perhaps put it better. "He was still Elvis," she remembered decades later. "He was just a bigger version of Elvis. He sounded as good as he'd ever sounded, to me."
But bigger Elvis was a handful, with his Asheville stay marked by all his late-period excesses: stellar performances punctuated by bizarre onstage antics, bouts of generosity beset by severe selfishness. It was as though Good Elvis and Bad Elvis were starting their final battle for his soul, which would come to a head all too soon and leave Asheville wanting more.
Gunning for Trouble
In the 40 years since Elvis took the Civic Center arena by storm, his legend has become a fixture of local lore, a source of loving wisecracks on the LaZoom tour bus and heartfelt memorials on Facebook forums. The saga of his Asheville escapades will always be composed of many stories—some of them true, some nearly so, and some indeterminate.
What's certain is that the Asheville shows found Elvis both sincere and flamboyant, both rooted and reeling—and, as was his wont, frequently armed. Staying at the Roadway Inn east of town, Elvis apparently got off two shots. The first was likely an accident: One afternoon in his hotel room, an emotional Elvis slung his arm around his father, Vernon, who was making a rare tour trip with his son. The embrace was cut short when a pistol in Elvis' hand discharged, sending a round ricocheting before it bounced, spent and harmless, off the chest of Elvis' on-the-road physician.
Having dodged that bullet, Elvis wasn't exactly chastened. Another afternoon, one of his bodyguards sheepishly approached the hotel manager, Charlene Noblett. "I'm sorry, but we owe you a television," the bodyguard said, explaining that Elvis had put his foot through the TV screen during an impromptu wrestling match. A couple of years later, a member of Elvis' crew copped to the truth. "Elvis shot the damn thing," he said, evidently out of frustration with the set's spotty vertical hold. At any rate, Elvis paid in full to replace the TV.
A Lot to Give
At the Civic Center, Elvis gave three rousing shows that were occasionally marked by signs of his decline. One night, he abandoned the stage mid-song, leaving his band members to introduce themselves and wonder if he'd return. A few minutes later, he was back. "Ladies and gentlemen, you've heard about the king being on his throne," he told the audience. "Well, I've been on the throne."
Such indelicate moments aside, Elvis was ever the crowd-pleaser in Asheville, even taking audience song requests, which he rarely did. And then there was something more—a kingly outpouring of generosity that people still speak of today.
First, there was the jewelry. Elvis had spent the prior two weeks pissing off many members of his band and entourage, and now he was trying to set things right. To do so, he flew in his favorite jeweler from Memphis and proceeded to buy and share some $85,000 worth of diamond rings and other jewelry (that'd be about $370,000 worth today). The baubles went to backup singers, band members, and even random members of the audience.
And then there was the guitar. One night, Elvis took his favorite six-string—a custom black Gibson emblazoned with a karate sticker—off his shoulder and quickly but ceremoniously handed it to 21-year-old Mike Harris, an Asheville native and Western Carolina University student who had a front-row seat.
"Here, this is yours," Elvis told the aghast Harris. A few songs later, Elvis called him back to the stage front. Elvis leaned down and solemnly said, "I gave that to you for a reason." Decades later, Harris, who has kept the guitar, was still flummoxed by the gesture. "I have no clue what the reason was," he admitted.
No matter, though. Harris has kept Presley's musical fires burning through the guitar, which he's brandished in his occasional attempts at Elvis impersonation through the years. And he'll share more of his story of receiving the remarkable gift at an upcoming 40th anniversary salute to Elvis in Asheville.
Thank You. Thank You Very Much.
Two years later, in August of 1977, Elvis was set to return for another performance at the Civic Center. Again, the show sold out—but Elvis never made it, because he died at Graceland 10 days before the engagement.
Asheville fans were distraught but sprang to action, and on the scheduled concert date, a committee of locals instead held a memorial service. With nary a dry eye in the arena, Elvis' frequent backing outfit, The Stamps Quartet, debuted a brand new song, "Elvis Has Left the Building." Drenched in the quartet's gospel style, with lines cribbed from "Precious Memories," the song hit just the right notes as it ended.
Now the show is over,
and the curtain has come down.
Elvis has left the building,
but will always be around.         
Rock On
Viva Ashevegas!
A 40th Anniversary Celebration
of Elvis in Asheville
July 30, 8 p.m.
The Orange Peel, 101 Biltmore Ave., Asheville
Featuring local Elvis tribute artist Carlo Martini and his new memoir, an Elvis-themed dance party, and more, with proceeds benefitting the Grateful Steps Foundation.
$15/$12 advance
(828) 398-1837
www.theorangepeel.net