Braciole in Ragu by Anthony Cerrato
Braciole in Ragu by Anthony Cerrato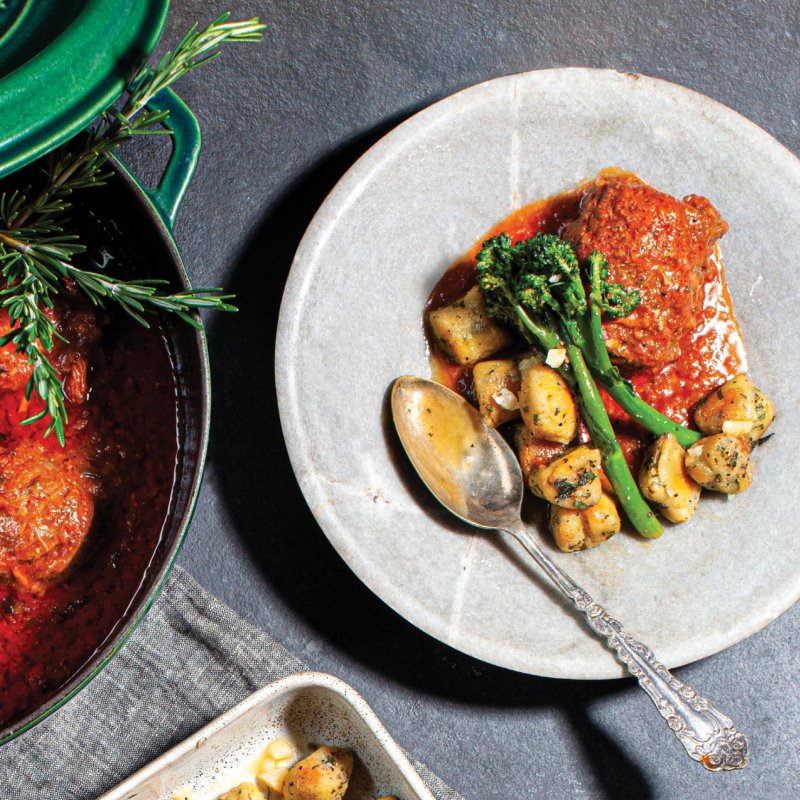 INGREDIENTS:
For the braciole:
1 12 oz. bag dehydrated potato flakes
¼ lb. prosciutto
2 hard boiled eggs
1 bunch parsley, chopped
1 flank steak
3 slices fontina
Salt and pepper to taste
1 cup spinach
Butcher's twine
For the sauce:
2 yellow onions, julienned
16 whole garlic cloves
¼ lb. basil, chopped
750 mL bottle Madeira
Olive oil
Salt and pepper to taste
16 oz. canned tomatoes, crushed
For the gnudi:
1 cup whole milk ricotta cheese
1 cup grated Parmesan
2 eggs
1 tsp. salt
1 tsp. freshly ground black pepper
5 Tbsp. gluten free all-purpose flour, plus 1 cup for coating
DIRECTIONS:
For the braciole:
Between two pieces of plastic wrap lay the flank steak out and tenderize and thin out with a meat hammer. Remove the flank steak from the plastic wrap, season with salt and pepper, then layer on the prosciutto, provolone, spinach, hard boiled eggs, and potato flakes. Roll the flank steak up and using butcher's twine, tie the steak up using a butcher's knot. Refrigerate for 1 hour.
For the sauce:
In a heavy bottom rondo over medium heat add the onions, whole garlic, and salt, and caramelize the onions and garlic. When the onions and garlic are caramelized, deglaze the pan with a bottle of Madeira and reduce by half. Next add the tomatoes, pepper, and basil, and cook until thick.
Braciole finish:
Place the braciole in the rondo with the sauce, cover with aluminum foil, and place into a preheated 350°F oven for an hour and a half or until tender.
For the gnudi:
Bring a large pot of salted water to a boil. In a large bowl, mix ricotta, Parmesan cheese, eggs, salt, pepper, and flour. Form mixture in to small, flattened balls. Dredge the formed gnudi in flour to coat, tapping off the excess. Slide formed gnudi into the boiling water. Be careful not to overcrowd the pan; work in batches if necessary. Remove the gnudi using a slotted spoon after they float to the top and have cooked for about 4 minutes.