Beer & Peanut Braised Collard Greens
Beer & Peanut Braised Collard Greens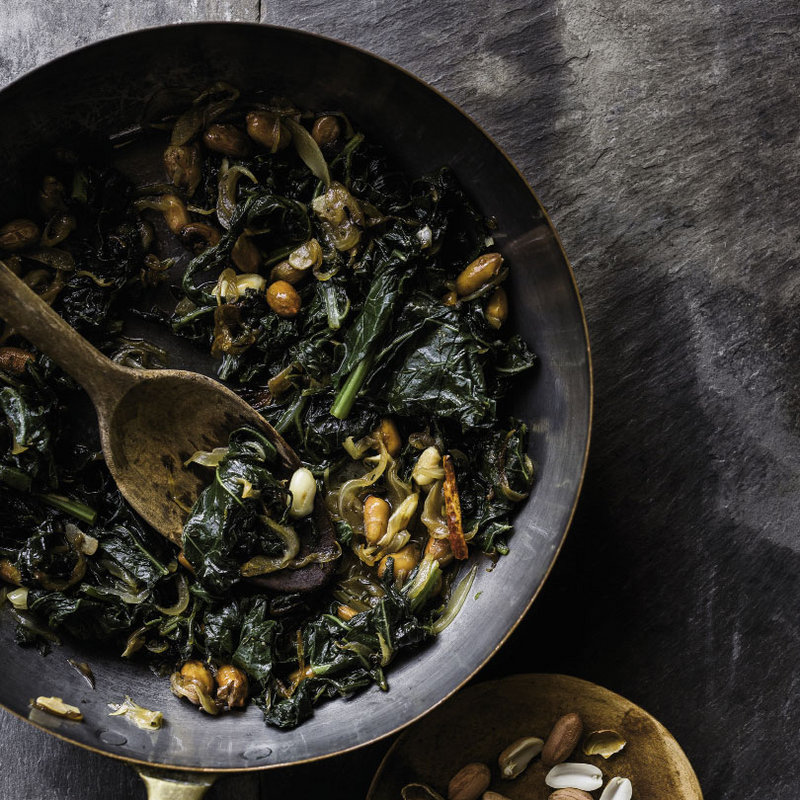 DESCRIPTION:
Courtesy of John Fleer, Rhubarb, Asheville
INGREDIENTS:
(1½ lbs. (1 bunch) collard greens, destemmed & cut into 1-inch strips
2 Tbsp. olive oil
4-5 medium sweet onions, sliced
2 cloves garlic, sliced thin
3 sprigs thyme
1 dried chile de arbol, broken in half, seeds removed
1/4 cup peanut oil
1 cup shelled peanuts Kosher salt & cracked black pepper, to taste
1 12 oz. beer (ESB or brown ale)
DIRECTIONS:
In a large pot of boiling salted water, blanch collard greens for five minutes. (For younger, more tender collards, about three minutes; for older, hearty collards, around six minutes.) Remove and plunge into a bowl of ice water to stop cooking, before squeezing excess water and setting aside. In a large, heavy-bottomed or cast iron skillet, heat olive oil over medium heat and lightly caramelize onions. Add garlic, thyme, and chili and cook for about 30 seconds. Reduce heat to medium low. Add blanched collard greens, peanut oil, peanuts, salt, and pepper. Cook for 10 minutes, tossing to coat thoroughly with peanut oil. Add beer in three four-ounce increments over the next 25 to 30 minutes, letting the previous addition mostly evaporate before adding the next dose. Adjust seasoning to taste. Remove the thyme sprigs and chili before serving.