Bacon-wrapped Pork Tenderloin
Bacon-wrapped Pork Tenderloin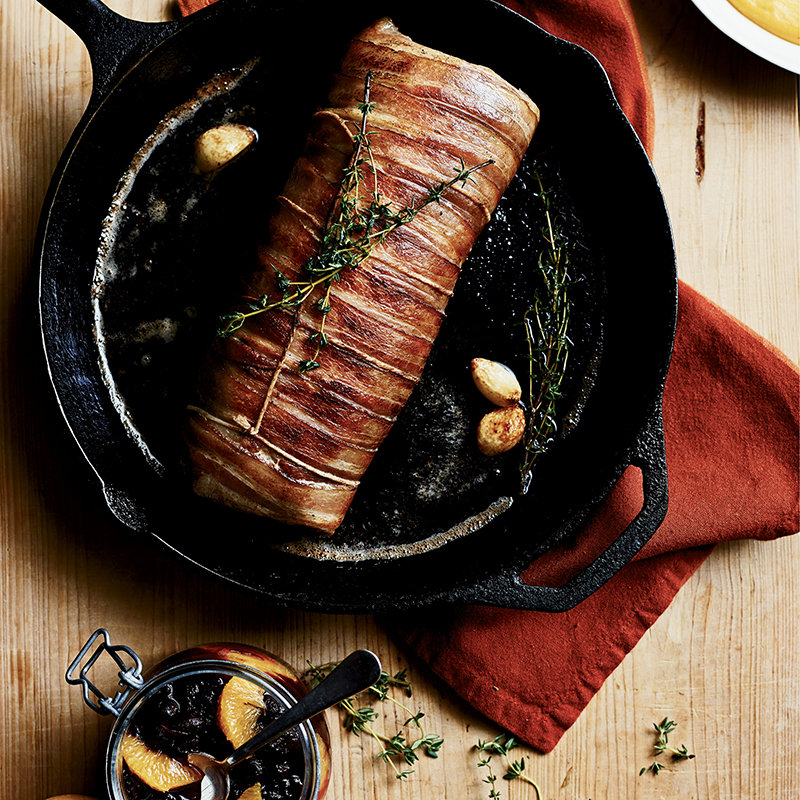 DESCRIPTION:
From the Kitchen of: William Dissen, The Market Place, Asheville
INGREDIENTS:
2.5 lb. pork loin
Standard brine
1 lb. smoked bacon, sliced into 16 strips
Salt & pepper, to taste
2 Tbsp. olive oil
Standard Brine
2 cups salt
1/2 cup brown sugar
1/2 cup sugar
2 bay leaves
1 bunch fresh thyme
6 garlic cloves
2 tsp. black peppercorns
1½ gal. hot water
DIRECTIONS:
Marinate pork loin in brine solution for two hours under refrigeration. Remove from the brine and rinse under cold water. Pat dry. Using a sharp knife, remove the layer of fat and silver skin from the pork loin. Lay out a 2 x 2-foot piece of plastic wrap and shingle bacon strips in the center. (Dissen recommends Benton's bacon.) Place the pork loin in the center of the bacon. Like rolling sushi, use the plastic wrap to fold bacon over pork loin and firmly roll forward to wrap bacon around the loin. Hold the sides of the plastic wrap and continue to roll forward to create a tight cylinder. Use butcher's twine to tie the ends. Refrigerate overnight. (This helps keep the bacon together while cooking.) The next day, remove the plastic wrap and tie the pork loin with butcher's twine prior to roasting.
Preheat oven to 450°F. Season pork with salt and pepper. In a large sauté pan, heat olive oil over medium-high. Add the pork loin and cook, turning to crisp the bacon on all sides. Remove from stove top and place in the oven. (If pan isn't oven-safe, transfer pork to a sheet tray.) Cook 15 to 20 minutes, or until the loin registers 140°F with a meat thermometer. Remove and let rest for five minutes before slicing.
For the Standard Brine
Using a two-gallon stockpot, combine all ingredients except water. Whisk in hot water to dissolve sugar and salt. Let cool.