Apple & Pear Mince Pie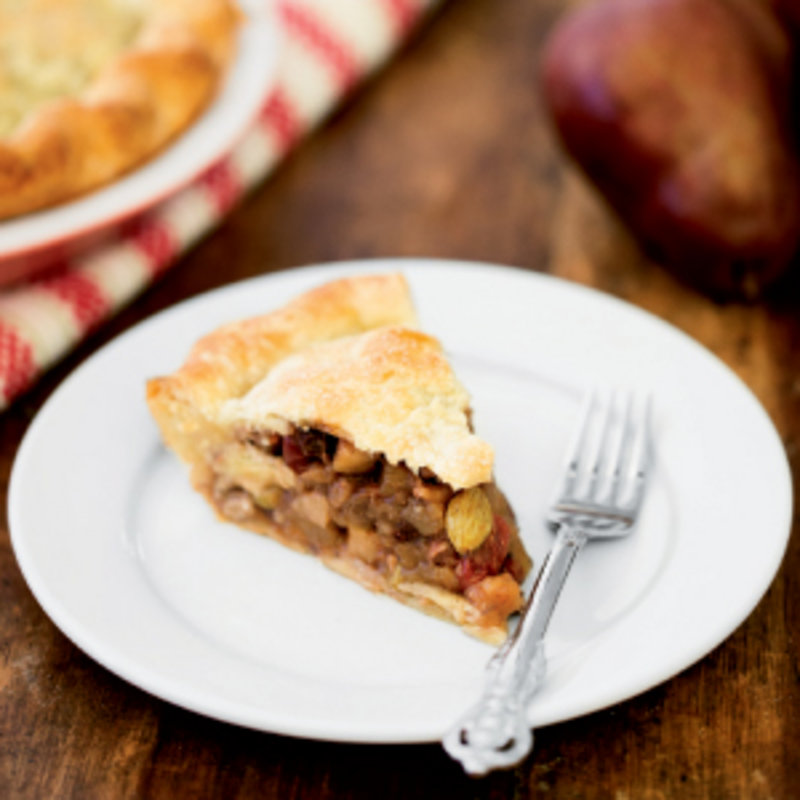 INGREDIENTS:
3½ lbs. cooking apples & pears, peeled & chopped 1/3 cup white wine 1/2 cup brown sugar 1/2 cup orange marmalade 1/2 cup sultana raisins 1/2 cup currants 1/2 cup dried cranberries 1/2 tsp. salt 2 tsp. cinnamon 1/2 tsp. ground ginger 1/4 tsp. freshly ground nutmeg 1/4 tsp. allspice 1/4 tsp. cloves Zest & juice of two lemons 3 Tbs. bourbon or Grand Marnier (optional) 3/4 cup walnuts, toasted & chopped Dough for two double-crust pies Cream Sugar for sprinkling  
DIRECTIONS:
n a large pot, bring apples, pears, and wine to a gentle boil. Add brown sugar, marmalade, raisins, currants, cranberries, salt, cinnamon, ginger, nutmeg, allspice, cloves, lemon zest and juice, and bourbon, and simmer until syrupy, about 30 minutes. Remove from stove and stir in walnuts. Roll out chilled pie dough into two large rounds, about 13 inches. Line bottom of two glass pie dishes and pour in fruit filling. Top with dough, seal and crimp edges. Cut slits and a one-inch hole in the middle of the tops to vent. Brush with cream and sprinkle with sugar. Place in refrigerator for at least 30 minutes. Preheat oven to 425°F. Bake on a lower rack with a drip pan below for about 20 minutes or until crust begins to brown. Reduce heat to 375°F and bake until crust is golden brown and juices bubble in the center, about 50 minutes. The filling should reach 190°F. Check frequently and tent with foil if the top begins to burn. Note: Pie filling can be frozen.