Ambrozia's Deviled Eggs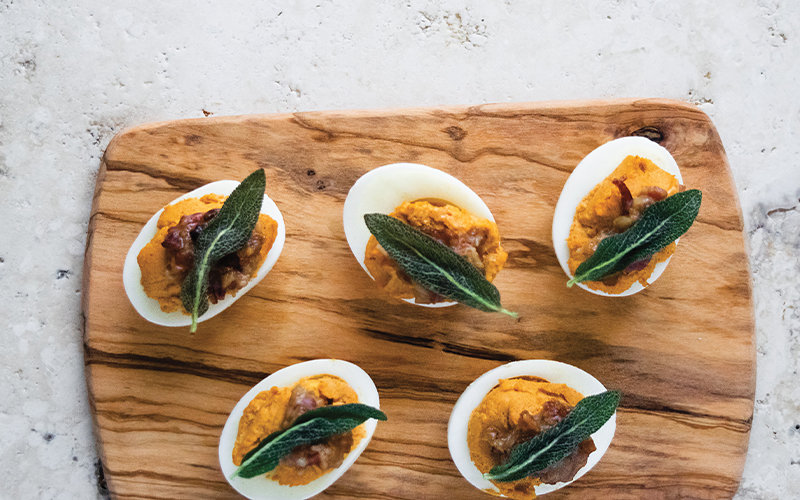 DESCRIPTION:
Courtesy of Ambrozia Bar & Bistro
INGREDIENTS:
1 dozen hard-boiled eggs
1/2 cup Duke's mayonnaise
1 Tbsp. smoked paprika
1½ tsp. Dijon mustard
Half lemon, juiced
Salt & pepper, to taste
2½ lbs. smoked bacon
1 yellow onion, chopped
5 cloves garlic, minced
1 cup chicken stock
1/2 cup brown sugar
Vegetable oil
24 fresh sage leaves
DIRECTIONS:
Peel eggs and cut in half lengthwise. Make the smoked paprika mayonnaise by adding mayonnaise, paprika, Dijon mustard, and lemon juice to a bowl. Blend until well incorporated. Scoop out the yolks and mix with a quarter-cup of smoked paprika mayonnaise. Season to taste with salt and pepper. Leftover mayonnaise can be used for other dishes in lieu of regular mayonnaise.
Make the bacon jam by cooking the smoked bacon in a frying pan. When crisp, remove bacon and set aside, and drain half the fat. Add onion to the pan with reserved grease and cook until soft. Add garlic and cook for one minute. Add chicken stock and brown sugar. Cook on medium heat for 10 minutes, stirring occasionally. Remove from heat and let cool. Add cooked bacon to mixture, transfer to a food processor, and purée. (Note: the bacon jam yields one quart, which will keep for up to four weeks in the refrigerator.)
Fill frying pan with vegetable oil and preheat to 375°F. Drop sage leaves in individually for about 30 seconds. Flip, fry another 15 seconds until crispy. Remove and drain on a paper towel.
Pipe or spoon egg yolk mixture into the egg white cavities. Top each with a pinch of bacon jam and a fried sage leaf.