Almond-crusted Baked Brie by Michael Gilligan
Almond-crusted Baked Brie by Michael Gilligan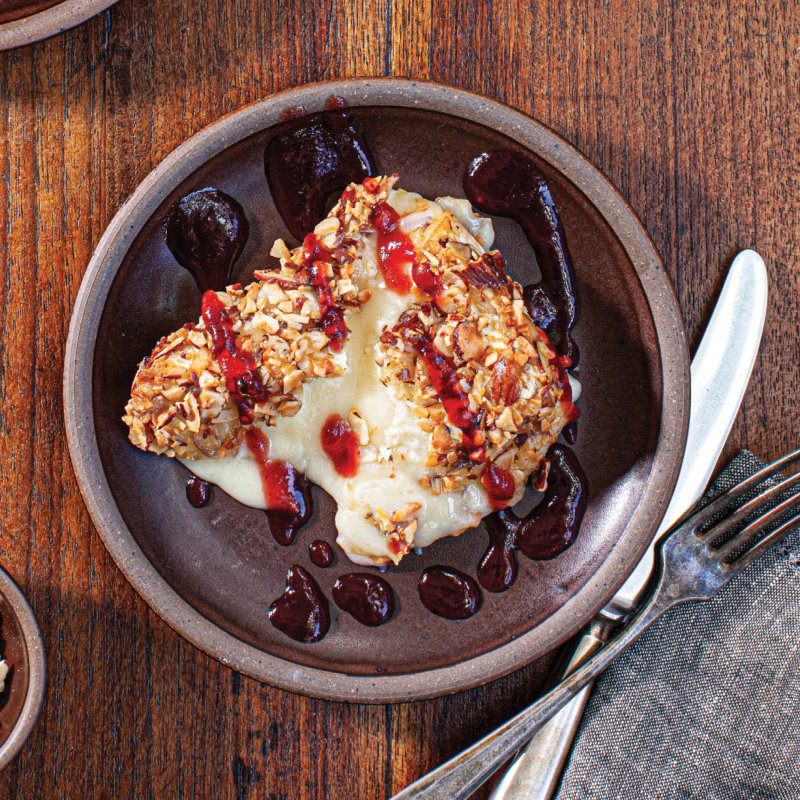 INGREDIENTS:
1 16 oz. package sliced almonds
4 eggs
1 cup all-purpose flour
1 wheel of brie, well chilled
1 can cranberry sauce (jellied)
½ cup red wine
4 cups mixed greens
4 oz. sherry vinaigrette (recipe below)
Thinly sliced cucumber and cherry tomatoes (optional)
For the sherry vinaigrette:
(Makes about 1/4 cup, enough for one large green salad)
½ cup sherry vinegar
1 shallot, peeled and minced (about 1 Tbsp.)
2 tsp. Kosher Salt
1 Tbsp. Dijon mustard
1 cups olive oil
DIRECTIONS:
For the brie:
Preheat oven to 350°F.
Roughly crush the sliced almonds in a food processor or place in a zip lock bag and gently go over it with a rolling pin and put in a bowl or a deep plate.
Cut the wheel of brie into 8 equal portions.
Crack the eggs and whip slightly and place in a bowl.
In a separate bowl or deep plate add the flour.
Coat the brie slices in the flour then toss them in the egg mixture, coat well, and place them on the almond plate to cover completely. Place on a lined baking sheet and put in the refrigerator for at least one hour (this can be prepared a day in advance).
For the cranberry reduction:
Place the contents of the cranberry sauce in a pot with the red wine and simmer, whisking gently until incorporated. Remove from heat and chill.
For the sherry vinaigrette:
In a small bowl, mix together the salt, vinegar, and shallot. Let stand for about 10 minutes. Then mix in the Dijon mustard and add the olive oil. Stir well, then taste. If too sharp, add the additional olive oil and more salt, if necessary.
To serve:
Place the brie into the pre-heated oven and bake for 8 minutes or until the cheese starts oozing out slightly. Toss the salad with the dressing and season with a little salt and pepper. Place the brie on the plate and drizzle the cranberry reduction over it, and place the salad next to it.